With millions of iOS-based and Android-based smartphones been sold every month, the cross-platform support of Snapchat allows millions of people to share a moment with friends for free through photos, record videos, text and drawings. SnapChat is an application for iPhones, iPads and Android devices that allows subscribers to send photos to others. Snapchat on Android can communicate with friends on iPhone, and vice versa. It is available for free in both the Apple App Store and Google play store.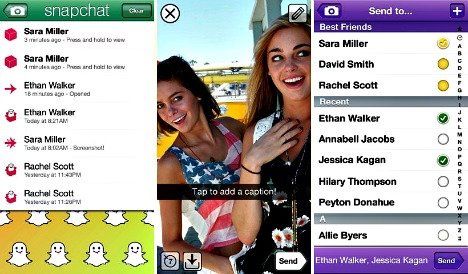 Snapchat is a real-time photo-messaging app that allows users to put a time limit on a picture so that the recipient can only see it for a few seconds before it disappears. With Snapchat, users can take or load a photo and specify how long their want it to be viewed (up to 10 seconds only), and send it privately to their friends. The recipients can view it only within the set time limit. Beyond the limit, the message will automatically disappear and never to be seen again by recipients.
Features of Snapchat:
Completely free with no ads.
No international charges.
Better sound quality than GSM or regular phone call.
Maximum life of seconds – Snaps can be viewed for a very limited time
Limits screenshots
Allows users set a 1 second to 10 second expiration of the photo
Share a moment with friends.
Notify users if other take a screenshot
Build relationships, collect points, and view your best friends
Snapchat is instantly fun and insanely playful
Saving disabled – Recipients cannot save Snapchats
Ability to draw on a photo with a simple color palette
Send Snapchats to groups of friends
Able to locate friends on Facebook  who use Snapchat
Snapchat is simple to use. Users can registers and sets a password and then it will periodically scans users phone address book for people it recognizes as Snapchat users and Facebook friends list, or they can enter specific usernames. When it finds done, it adds that person to the address book inside the Snapchat apps.
To send a picture with SnapChat, users need take a snapshot using the in-app camera, set a time limit, select recipients, and press send button. Users have a Snapchat mailbox, where they can see a list of sent and received messages. Setup of complicated profile is no longer necessary. What you need to do is to download the SnapChat app from Apple App Store or Google play store. You are then ready to make photos, record videos, text and drawings.
A video of Snapchat:

Download Snapchat for Android from Android Market: https://play.google.com/store/apps/details?id=com.snapchat.android
Download Snapchat for iOS from Apple App Store: https://itunes.apple.com/us/app/snapchat/id447188370?mt=8