Frustrated with the built-in Messaging application? Want more features? Then chompSMS is one for you! This very popular and well supported SMS app features loads of extra features like chat-style bubbles, contact pictures, quick reply, signatures, templates, blacklisting, lot of customizations themes, as well as free texting using the TextFreek Service.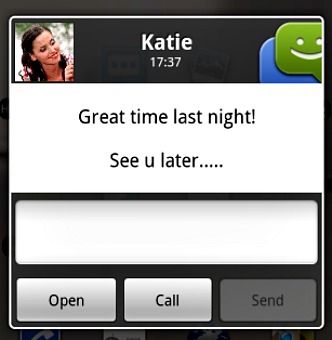 Users can simply use chompSMS as a souped-up replacement to the built-in Android Messagign application, just with a heap more features and customizations. But, if users mobile carrier charges a lot for SMS messages (internationally for example), users can buy chompSMS credits to send much cheaper SMS messages. Chomp also includes a service called TextFreek, which allows users to send free text messages to anyone with an iPhone, iPod, Blackberry or Android device (as long as they also use TextFreek for chomp).
ChompSMS comes with feature-rich and allows a huge range of customization. Getting everything set up for the best performance takes a bit of working out, but even "straight out of the box" this is a very good SMS client. It would be a hard choice between this and Handcent as the best free SMS alternative, but as they are both free, it is worth trying each out and seeing which one suits you the best.
Download the ChompSMS from Google play store: https://play.google.com/store/apps/details?id=com.p1.chompsms&hl=en
Download the Handcent from Google play store: https://play.google.com/store/apps/details?id=com.handcent.nextsms