Browsing articles tagged with "Apple iPhone Archives - Page 5 of 6 - Tip and Trick"
Nowadays, many companies offer portable battery pack for smartphone and tablet mobile devices with most tech addicts need an extra power for their smartphone while on-the-go. Power Pratical has already smashed through its initial $50,000 funding goal on Kickstarter and offer its new enhanced rechargeable portable battery – Pronto. Pronto is the fastest charging portable battery pack that designed to recharge battery fast which takes only 5 minutes to fully charge an iPhone 1,440mAh battery on-the-go.
Apple iPhone enthusiast may reconsider upgrading to the iPhone 6 Plus for brand new features and an updated operating system. Before buying the iPhone 6 Plus this month, consumers would be smart to check out a few of the iPhone 6 Plus notable competitors.
Jailbreak the device will allow users to customize iOS's interface and functions. Apple has released a new beta version of firmware OS software update for iOS device, which has the version number of iOS 8. A new version of jailbreaking tool for iOS devices such as iPhone, iPad and iPod touch running iOS version 7.1.1 has been released. Pangu is able to jailbreak iPhone, iPad, and iPod touch 4G running on iOS 7.1.1.
Continue reading »
If you wonder how you can utilize your iPhone as an advance camera phone, the recent app released by Tap Tap Tap could be your right option. Named as MagiCam, the app will give new experience for users in iPhone photography.
The FIFA World Cup 2014 Brazil tournaments are finally kicked off with a match between Brazil and Croatia. Football fans around the world are preparing to cheer on their nations down in Brazil. Whether you'll be heard over to Brazil or watching at home, these apps will help to fulfil your world cup 2014 experience on smartphone device.
Continue reading »
Apple products accessories maker Hyper has recently announced its new stylish first Apple-approved MFi (Made-For-iPhone/iPad/iPod touch ) flash drive that comes with both a USB and Lightning connector which designed for iOS devices users with a way to quickly and safely move data between computers and iOS devices without iTunes.
As mobile phone cost and complexity increases, FreedomPop offers unprecedented value and flexibility with the world's first 100% free mobile phone service. FreedomPop has announced the first free mobile service plans for the iPhone which allow iPhone owners enjoy free mobile access to free voice, text, and voicemail service.
Apple has released iOS 7.1 firmware OS update for its various highly-popular devices – iPhone, iPad and iPod touch, which brings performance enhancements, design tweaks, new features, and bug fixes. The world most advanced mobile OS update including the all new CarPlay, improvements to TouchID, Siri, iTunes Radio, Calendars, and other. iOS 7.1 is available for iPhone 5s, iPhone 5c, iPhone 5, iPhone 4S, iPhone 4, iPad Air, iPad mini, iPad 4, iPad 3, iPad 2, iPad mini, and iPod touch 5G.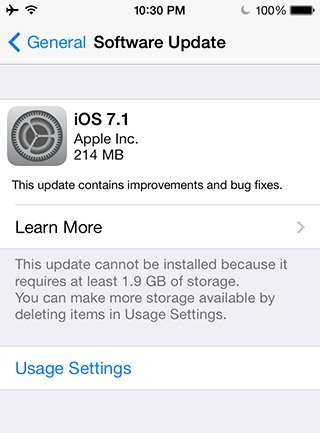 Continue reading »