Apple products accessories maker Hyper has recently announced its new stylish first Apple-approved MFi (Made-For-iPhone/iPad/iPod touch ) flash drive that comes with both a USB and Lightning connector which designed for iOS devices users with a way to quickly and safely move data between computers and iOS devices without iTunes.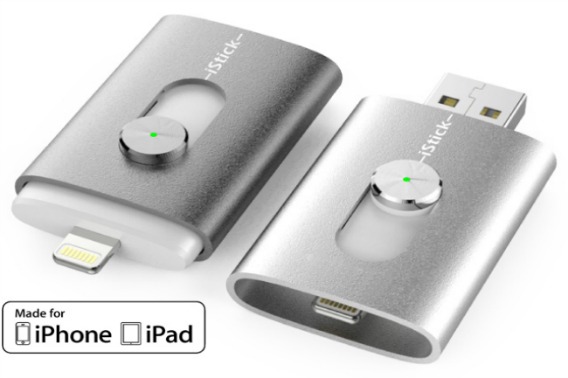 iStick is USB flash drive that has a sliding switch with a USB port and Lightning connector. Users can use the iStick as a regular USB flash drive and also can access the iOS device. iStick compatible with the following Apple devices – iPhone 5, 5s, 5c, iPad (4th Generation) / iPad Air, iPad mini / iPad mini with Retina display, and iPod Touch (5th Generation).
In order to enhance users experience, iStick comes with iOS app that lets users play music, download photos and watch videos stored on the drive, without occupying any additional space on iOS device's inbuilt storage.
iStick measures 51.6 x 28.6 x 9.1mm and available in two colors – black and white. It offer 8GB, 16GB, 32GB, 64GB, and 128GB storage capacities and available for pre-order through a Kickstarter crowd-funding campaign for price start $65 for 8GB storage capacities.