The FIFA World Cup 2014 Brazil tournaments are finally kicked off with a match between Brazil and Croatia. Football fans around the world are preparing to cheer on their nations down in Brazil. Whether you'll be heard over to Brazil or watching at home, these apps will help to fulfil your world cup 2014 experience on smartphone device.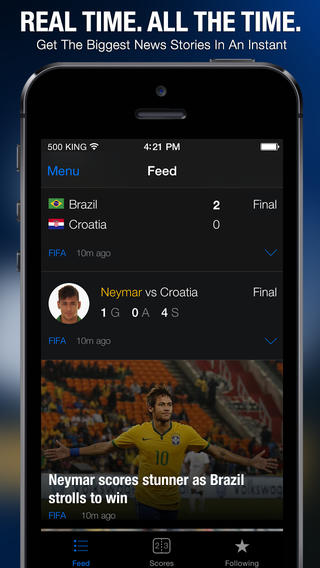 theScore
theScore is a sports app that updates all the latest breaking news of your favorite teams and players. It offers breaking news such as news, scores, and live updates. In addition, users can set breaking news alerts for individual players or entire teams. theScore is available for iOS and Android.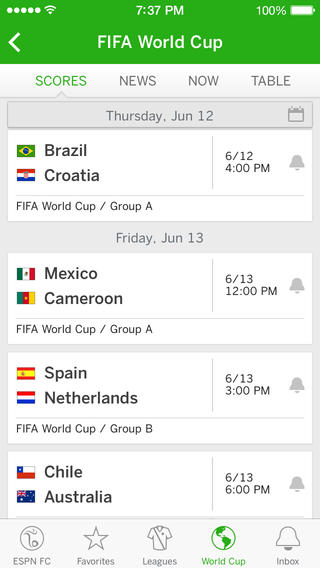 ESPN FC Soccer & World Cup
ESPN FC app also known as world cup app which fountain of World Cup knowledge with features in-depth analysis and commentary, team alerts, and all the news and fixture information. Users can customize favorite teams to follow and set detailed alerts for everything from match substitutions to score updates to team stats. Users also can watch exclusive video highlights from the match. The free app is available for iOS and Android.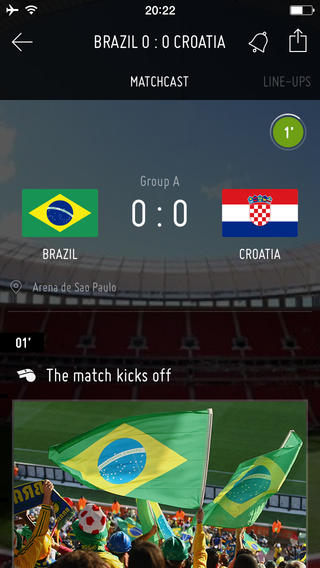 FIFA Official
The official 2014 FIFA World Cup app is the virtual ticket for smartphone users to the global stadium. It's the best way to joinin with the biggest conversation on the planet. It features live coverage from all 64 games. Users can stay connected with the latest news, photos, videos, tournament stats, real-time voting on the official Man of the Match plus the chance to win the actual kick-off ball from the games.
With FIFA app, users can engage with friends, worldwide fans, players, coaches, and celebrities from the in-app social media feed and could see themselves in the global Stadium. The free app is available for iOS and Android.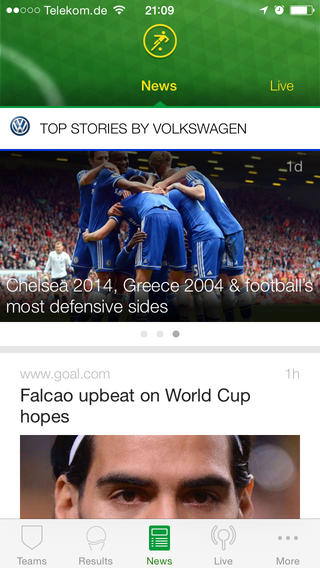 Onefootball Brasil
Formerly known as TheFootballApp, Onefootball has released a special World Cup version of the app. Users can customize favorite teams to live updates. In-app live coverage is provided by talkSPORT radio for UK users while others can access to the Live Ticker for minute-by-minute commentary from matches. Furthermore, users also can chat with fellow fans when connect the app with Facebook account. The free app is available for iOS, Android and Windows Phone.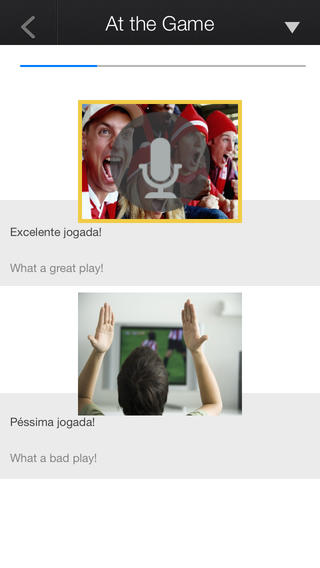 Travel Portuguese Futebol Edition
If you want to be able to trash talk with the locals at world cup matches when you're in Brazil, try the Rosetta Stone Travel Portuguese Futebol Edition app. Travel Portuguese Futebol Edition will give you a crash-course in essential Portuguese to help you get around the country. Lesson categories include: At the Game, Greetings, Food and Dining, Transit and Lodging, Cities and Landmarks, Shopping, Sports and Outdoors and Emergencies. The free app is available for iOS and Android.