Browsing articles tagged with "Apple iPhone Archives - Page 3 of 6 - Tip and Trick"
Have you feel bored or tired of the Android function and ready to jump into Apple platform? or have plan switched to an Apple iOS platform from Android? However, you have concern on transferring personal data, downloaded apps, and other information from Android to Apple. Don't worry. If you're trying to find out how to do so, here have a simple guide on using Move to iOS app to help you get your content and data, including images, messages, accounts, and more over to your new iOS device.
There have a lot of username and passwords need to memorize in our daily life. If you can retrieve the stored usernames, emails and passwords from your iPhone and easily manage them, that will be a pretty good feature for quickly getting into all your favorite websites. Two key features – Saved Passwords and Autofill in iOS let you save passwords on websites via Safari. Saved Passwords help you saved your username and password, so that you no need to enter them every time again. Autofill feature make sure the password forms are populated automatically with the saved data. Both these features will stores your username and passwords in your device's memory.
However, if you want to log on to the websites with other devices and forgot the username or passwords? How would you do? Don't worry; you can retrieve all the information through its settings in Safari.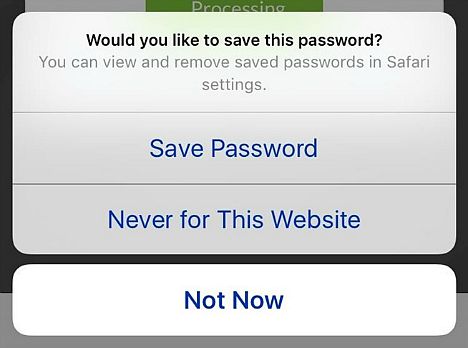 Continue reading »

 YouTube is the most famous and largest video library available online, it allows us to search, stream and upload our favorite videos at the most easier way. However, YouTube is strict and changed its terms and conditions recently to prevent users from downloading videos to watch offline. However, there is still an alternative way to get this fixed by using the third party tool to save your favorite YouTube videos into PC and then sync them over iTunes to iPhone or iPad. Unfortunately, all this method makes it inconvenient and takes time to do this transition. In order to have a short cut way to save your favorite videos directly into iPhone where you can watch them at any time in offline mode, we found an app named "Video Download Browser" which able to downloading in extremely simple and convenient way. This app is Free of charge.
After released of WhatsApp Web for Android, WhatsApp Web took almost eight months to release WhatsApp Web for iPhone users due to Apple's platform limitations. When first launched, it was only available for Android, Blackberry, and Windows Phone. WhatsApp Web allows users on mobile devices to continue their conversation through their web browser which is easier and super handy for those who use a computer regularly.
LyricForMusic released jailbreak tweak which bring an easier and joyous way to all music lovers.   Previously, Apple launched an Apple Music in iOS 8.4 and bringing streaming music to Apple's stable. But, it still was missing one fairly big feature which is Lyrics. Now, you can hear a new song from Apple Music and easily learn your favorite song by instantly adding lyrics to any now playing song.
OS X El Capitan and iOS 9 public betas is now available for iOS users who wish to try into the new mobile operating system after Apple announced at WWDC last month. Mac, iPhone, or iPad users are available to get installation and download instructions for this new OS after signing up via Apple's Beta Software Program website.
iTunes 12.2 is out. The new version of iTunes is rolling out for Mac and Windows PCs ahead of iOS 8.4 released and OS X Yosemite 10.10.4 update for the Mac. iTunes 12.2 comes with support for the new Apple Music, Beats 1 global Internet radio, and includes bunch of exciting features.
Apple iOS 8.4, another Apple iOS updated has released to iPhone, iPad, and iPod touch with bringing enhancements and fixes to the iOS and comes together with the company's most anticipated services, Apple Music.
Apple Music will be available immediately after iOS 8.4 is installed with located within the Music app that lets iOS users listen to music from any genre, or a live global radio stream via Beats 1. Apple Music is available for free 3 months in over 100 countries.