A watch packed with fancy hardware and comes loaded with software features which maybe some of you would probably never use. Yes, the device I refer to is the Samsung Galaxy Gear, the company's first attempt and most creative design at a modern smart watch. It is a smartwatch that can pick up notifications, control music playback, and also integrated with a camera, a speaker and two microphones. Although it can answer or place a calls, but Gear is not a phone in its own right. It relies on a Bluetooth connection to your Samsung Galaxy device in order to do most of its connected work, extending its functionality and ideally giving more convenience to user for less necessary to reach into your pocket or bag for your phone.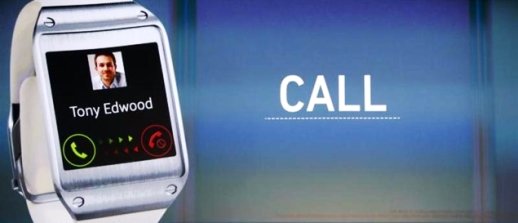 The centerpiece of Gear, you can view your message via a 320 x 320 pixel, 1.63-inch AMOLED touchscreen, speaker and mics for recording and playing video. For spec, Gear includes a single-core 800MHz processor, 512MB of RAM and 4GB of internal storage. Galaxy Gear is a feature-rich device. Basic on board apps include a pedometer, which tracks your physical activities and Samsung's S Voice. Samsung says there's over 70 compatible apps to choose from and can be installed, for example, Pocket, Path and RunKeeper.
The body of the Gear is stainless steel and about 74 grams, it's quite heavy if compare with Pebble Watch. The performance of the device is somewhat lacking, perhaps we have used to super-fast performance smartphones. Slowness performance is not terribly, just not as fast as we would expect. A 1.9 megapixel camera and speaker built into the wrist strap with a BSI sensor and autofocus lens tasked with capturing photo and 10 second video clips at 720p, 640 x 640 or VGA resolution with sound.
The wristband on Gear adjusted to four different lengths with a bracelet-style metal clasp that snaps shut. Instead of this, Samsung is using the colors to emphasize the role of the Gear. According to Samsung, Wild Orange or Lime Green represent types of sporty option and the Rose Gold and Mocha Gray were designed with female users in mind.
It does can be easily interact with the Gear by using simple gestures. A swipe upward to on camera, while swipe down brings up the home screen to show the time, weather and news headlines. A swipe to left or right to let you scroll through contacts, logs, apps, settings, the pedometer, music and notifications.
Galaxy Gear will be compatible with Galaxy Note 3 and Galaxy Note 10.1 2014 edition. The price of this device is a bit fair amount with total $299. And it just like other smart watches, fails to live up the smarter features, but it's too dependent on its parent device for functionality.