Do you love writing all your notes by hand? Samsung Galaxy Note 8.0 is the second entry tablet range for note series which is more emphasizes the use of stylus. Galaxy Note 8.0 focus on S-Pen functions as an input device for note-taking or sketching. It designed especially for Notes lover which complemented withadvance TouchWiz Android skin function and runs with Android 4.1.2 Jelly Bean. The new S-Pen-toting tablet is comfortable to hold one-handed in portrait mode for note-taking or jotting with the pressure sensitive stylus (S-Pen).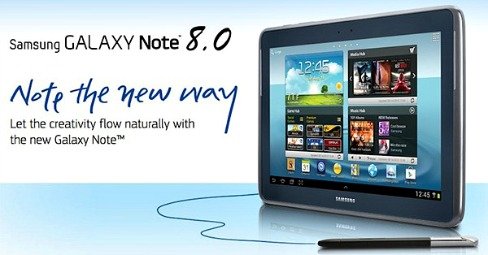 Key Features and Specs of Samsung Galaxy Note 8.0:
8.0 in (200 mm) LCD with WXGA (1280×800) 16:10 resolution
1.6GHz quad-core Samsung Exynos 4 Quad processor with 2GB RAM
Capacitive touchscreen and Wacom digitizer, supporting 1,024 levels of sensitivity
5-megapixel and 1.3-megapixel cameras at the rear and front respectively, along with stereo speakers and HD video recording (1080p) at 30 frames/s auto-focus
With GPS, Bluetooth 4.0, DLNA, MHL, dual-band WiFi (802.11a/b/g/n) connectivity
Large 32GB or 16GB internal memory (Additional 64GB with micro SD card)
Rechargeable 4600mAH Li-Ion battery
Size: 210.8 x 135.9 x 8 mm (8.30 x 5.35 x 0.31 inches)
For the benefits of all users, this pen-based tablet has been added a "reading mode" sensor screen setting to automatically adjust the brightness to best fit the environment when user are reading and Samsung's Smart Stay features utilize the front-facing camera to detect on user and keeps the screen on if the user is looking on the device or screen.
On overall, Note 8.0 is an intermediate device to the Note series with comfortable hand carry and good looking small tablet. It gets some improvements on this tablet. You'll be happy to gets software upgrades, integrates the S Pen in a smaller package with fewer seams and a more impressive screen. This should be good news for stylus devotee or an artist to fulfill their requirement.
Samsung Galaxy Note 8.0 comes with two versions which are WiFi plus mobile 3G and with WiFi only version is slated to be available through AT&T starting June 21 for $399, based on a new two-year contract. More than that, AT&T also offering a great deal for anyone who wants to pair that up with the Samsung Galaxy S4, S4 Active or the Samsung Galaxy Note 2 just only $199 with two-year contract.