In this advanced technology era, peoples using smartphones to check much more than just the time. It is no surprise that watches are evolving to fit today's mobile mind-set. Pebble Technology was developed a wearable Bluetooth 4.0 intelligent wristwatch – Pebble Smartwatch.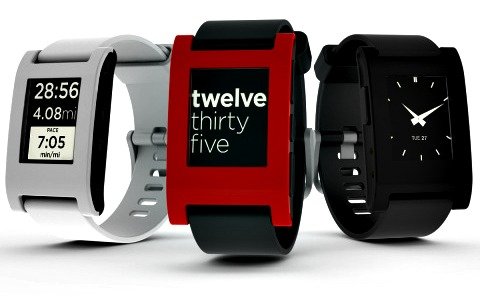 This e-paper Pebble Smartwatch can display notifications for iOS or Android devices. It designs with a black silicon band surrounding a 2'' by 1.25'' watch chassis. Since it's based on an e-ink display, the Pebble Watch is restricted to black and white only. Pebble has a scratch and shatter resistant lens with an anti-glare optical coating and features navigational buttons along its left and right sides. On the left side, there have three bulky buttons which are navigates up, another one that moves cursor down and the middle button is for selecting menu items. On the right side of the watch has a single button that for returns to the home screen and just beneath that is the watch's magnetic charger.
One of the Pebble Smartwatch selling points is the customizable function with beautiful downloadable watch faces and useful internet-connected apps. Users can set up the Pebble Smartwatch by plugging the device into its included magnetic USB charger while holding down a button to turn it on. In addition, users need to download the free Pebble app to enable notifications whether using iOS or Android devices.
Key features of Pebble Smartwatch:
144 x 168 pixel display black and white e-paper
Bluetooth 2.1 + EDR and 4.0
Vibrating motor
3 axis accelerometer with gesture detection
Rechargeable battery keeps going for 7+ days
Water resistant can withstand 5 ATM for both fresh and saltwater
A backlight let it readable when dark and just simply shake your wrist and the light will come on automatically.
Color: white, cherry red, orange and gray
Size: 2 x 1.2 x 0.4 inches with 1.3 ounces weight
Customize with Apps:
Pebble Smartwatch can be a bike computer to help cyclists by accessing the GPS on smartphone to display speed, distance and pace data. Users can use the music control app to play, pause or skip tracks on the device with touch of a button. Furthermore, Pebble Smartwatch also works with Freecaddie to create a great golf rangefinder app that works on over 25,000 courses worldwide.
Customize with watchfaces:
With the brilliant outdoor-readable electronic paper display, users can change the watchfaces instantly to match their mood, activity or outfit. Pebble has designed tons of watchfaces to fulfill users requirement.
Pebble Smartwatch can alert users when device receives a text message, an email or a phone call. On this notifications app, there's a noticeable discrepancy between the experiences for iOS vs Android. Android users get updates from Facebook, Gmail, Twitter, Whatsapp, calendar reminders and Google Voice messages. However, for iOS users can only receive text message, email, and phone call notifications. In addition, users are able to dismiss a notification with a shake of wrist.