Microsoft has released yet another its new Windows 10 Build 10565, and now Microsoft begin rolling out Windows 10 Mobile Insider Preview Build 10572 where according to Engineering General Manager for Microsoft's Gabriel Aul, it "a pretty excellent build" promising "new features, lots of fixes, improved battery, etc.". It remains to be seen as whether Windows 10 mobile users around the world will agree with Gabe assessment of this build, but it's safe to say that this is Microsoft's most ambitious and potentially impressive update till date.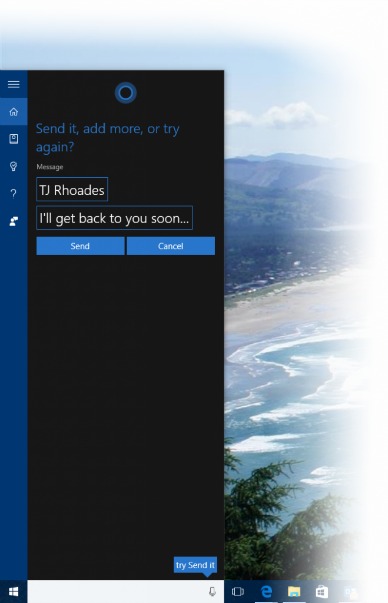 Windows 10 Mobile Build 10572 is single update from Windows Phone 8.1 that unavailable to upgrade from previous older Build 10549. To update, Windows 10 mobile user have to downgrade to Windows Phone 8.1 using the Windows Device Recovery Tool for those currently using Build 10549. From there, Windows mobile user can install the Windows Insider app, select Fast ring, and will be able to upgrade from Build 10572 to future builds directly.
Best of all, Windows 10 Mobile Build 10572 brings lots of exciting new and improved features, including new Cortana improvements, Photos and storage settings, along with deep integration of the new Skype messaging, calling and video experience.
Here the new and improved features in Windows 10 Mobile Build 10572:-
Get missed call notifications and send texts on your PC with Cortana: With this build on your phone, Cortana will now notify you on your PC (needs to be running Build 10565 or higher) that you missed a call. When you miss a call, you can reply with a text to the person who called you right from your PC and Cortana will have your phone send it.
If you want to send a text from your PC at any time (even when you haven't missed a call), just type or speak "Text" and the name of a contact to Cortana on your PC just like you would on your phone and Cortana will take your message and send it from your phone too! Give it a try and let us know what you think.
Skype messaging, calling and video experience: As we mentioned previously, this build has the Skype integration through the Messaging, Phone and Skype video universal Windows apps. Additionally, the Messaging app now supports animated GIFs and includes the ability to search your messages. And the Phone app has the ability to search for contacts from Call History.
Cortana improvements: Cortana can help keep track of your leisure time, including movie and event reminders and will give you helpful information to know where to go and to get there on time, including an option to book and track an Uber ride directly from Cortana. With this improvement, you can book an Uber any time you want by saying 'Book an Uber' and Cortana will get you a ride immediately. You can even take an Uber to the airport, simply say 'Book an Uber to SeaTac airport,' or any other airport recognized by Bing that allows Uber, and have Cortana book you a ride to Seattle-Tacoma airport, JFK, ATL or wherever your travels take you.

Offline maps: You can now save offline maps to a SD card! This has been a top feature request by Windows Insiders and we're happy to get it out to you in this build.

Photo app improvements: With the most recent update to the Photos app, you can now mark local photos on your phone as favorites and have them shuffle on the Live Tile. We have also made some viewer improvements for zooming performance and file information. And added new launch points for rich editing. We have also added additional context menus (press and hold on a photo).
Storage settings improvements: With this build, you will see UX improvements to storage settings on your device that create a common experience across your PC and phone. We have enabled the number one user feedback item for the storage settings page to allow you to install applications to expanded storage such as and SD card or USB drive on BOTH your phone and PC. You can also check out these updated storage settings in Build 10565 for PC we released last week.
Here fixed issues in Windows 10 Mobile Build 10572:-
Notifications, such as new messages, can be received without first unlocking the device.
Cortana's background activity has been optimized for power usage.
We have fixed some of the issues that were causing the Start screen to not load. Additionally, we have made some performance improvements to the Start screen.
We have made performance improvements to Acton Center, including swipe to expand and dismiss notifications. Swiping to expand or dismiss notifications should happen more quickly.
The alarm icon now appears on the Lock screen when an alarm is set in the Alarms & Clock app.
The proximity sensor during calls is now behaving as expected on devices that may have previously failed to turn the screen off.
App downloads in the Store were sometimes getting blocked by a service hanging in the background – this should be resolved, and app downloads should be more consistent.
The keyboard will switch languages less aggressively now.
Taping restart for apply an update will reboot the device immediately now.
As usual, the build's not perfect, and it includes some known issues. Here known issues in Windows 10 Mobile Build 10572:-
Visual Voicemail sync is broken on some devices. You may need to call your voicemail directly within the Phone app > Settings > Change more settings for Phone > Call Voicemail.
Opening message threads within the Messaging app will crash on dual SIM phones if the second line's Messaging tile is removed from the Start screen (even if only a single SIM is used). The second line's Messaging app will also appear to be removed from the All apps list. To work around this issue, the second line messaging tile must be linked to the first line messaging tile by opening up the first line in the Messaging app then go to Settings > link tiles.
On Dual SIM devices, unpinning the second line Phone tile from the Start screen will make the entry disappear from the All apps list. Rebooting the phone will cause the tile and application to both reappear.
Photos cannot be selected for sharing through third party apps like Facebook, Facebook Messenger, Instagram Beta, WhatsApp etc.