Microsoft has released yet another new Windows 10 Build 10565 for Window Insiders on the Fast and Slow ring insiders. The new build, Windows 10 Build 10565 contains mostly bug fixes and improvements, plus some new features, including improved new Cortana improvements with now understand inked notes, color title bars in apps, adds new Skype messaging, calling & video experiences, and sync favourites and reading list items in Microsoft Edge.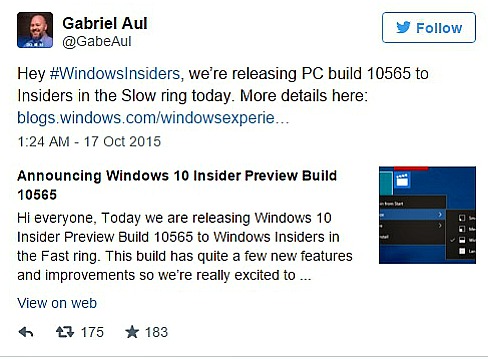 As good news, the latest Build 10565 now available ISOs file as an update for those who prefer to keep things fresh with a clean install on device. To download and install ISOs file of Build 10565 on device just follow the steps below:
Sign up for the Windows Insider Program for new user.
Read the system requirements.
Click one of the Download links on page here to download ISO file.
Once download is complete, transfer the ISO file to installation media such as a bootable USB flash drive or DVD.
Boot PC from the installation media, and then follow the in-screen step by steps instruction to perform a clean install.
If request, just use the following product keys for installation:
8N67H-M3CY9-QT7C4-2TR7M-TXYCV
or
6P99N-YF42M-TPGBG-9VMJP-YKHCF
or
NKJFK-GPHP7-G8C3J-P6JXR-HQRJR
or enter a valid product key of genuine Windows 7 or Windows 8/8.1 operating system.
Windows 10 Build 10565 ISOs files are available in x86 and x64 in 23 language/region from Chinese (simplified) to Czech.
Arabic
Chinese (Simplified)
Chinese (Traditional)
Chinese Single Language (Simplified)
Czech
Dutch
English (UK)
English (US)
Finnish
French
French (Canada)
German
Italian
Japanese
Korean
Polish
Portuguese (Brazilian)
Russian
Spanish
Spanish (Latin America)
Swedish
Thai
Turkish
Download Windows 10 Insider Preview Build 10565 Offline ISO Files
Features of Windows 10 Build 10565 include updated new icons, improved context menus on Start menu, more colourful title bars (adjust the color by going to Settings > Personalization > Colors), easier to activate Windows 10 on devices by using existing Windows 7, Windows 8 or Windows 8.1 product keys by going to Settings > Update & security > Activation and selecting Change Product Key. In addition, Cortana can now understand notes that user inked or written and Desktop Windows 10 10 users can preview Skype messaging, calling, and video capabilities via Messaging, Phone and Skype video universal Windows apps.
Fixed issues in Windows 10 Build 10565 include:
Context menus are now smaller so they're easier to use with a mouse.
Users can pin contacts to the Start menu from the People app.
Hiding desktop icons via the Context menu now works.
Windows Store apps are now updating automatically.
Warning message no longer appear in the Settings app > Update & Security > Windows Update regarding changed ring settings for preview builds unless user change ring settings.
Known issues in Windows 10 Build 10565 include:
Search box will not work if you are in a locale where Cortana is not available
The Xbox app for Windows 10 will consume gigabytes of memory on your PC if you have any non-Windows Store games installed on your PC that have been identified as games or added by you in the Xbox app. To get the memory back, close the Xbox app
WebM and VP9 have been temporarily removed from the flight builds
Small form-factor devices that boot with rotation or virtual mode screen size set larger than the physical screen size