Browsing articles in "Electronic Gadgets"
The Apple Watch is most personal device. Your Apple Watch certainly contains a lot of personal data information. Sometimes you may leaving your Apple Watch or even leave it unattended, lose it, or have it stolen, it leaves you open to everything from pranks to having all your personal data exposed.
The most basic effort you can take to protect your Apple Watch is to put some kind of a screen passcode on it. There have few methods to increasing degrees of security for Apple Watch.
Have you ever missing or misplaced your iPhone around the house? Panic mode will on from the insecurity of not having your phone in hand at all times. Apple was so considerate to create the "Find My iPhone" function for all Apple users. You may just log into iCloud on your computer where this great tool can help you locate your missing iPhone whether stole or just forgot it at some place. However, this tool has its limitation. It's not that useful when you happen to misplace your device somewhere inside your house.
Travelling is the most famous and popular hobby in this century to release your life stress. However, differences language in different country will be another stress for those travelers. One of the world's leading hotel companies, InterContinental Hotels Group (IHG) has announced that the highly rated IHG Translator App will be available on Apple Watch. This app already launched for iOS and Android devices. Now, it let user "travel like a local" by giving travelers access to on-demand translations, virtually anywhere in the world.
Not to be left out of markets, Chinese electronics maker, ZTE has finally launched its Android-powered smart projector – Spro 2 in the U.S. The Spro 2 has been designed to runs on Android 4.4.4 KitKat and capable of projecting a screen up to 120-inches in size at 1280 x 720 resolution and 200 lumens with autofocus and auto keystone correction to provide users with the ultimate in-home theatre experience.
Surface 3 tablet is another impressive product from Microsoft to expanding its Surface tablet line.  Unlike most tablets, Surface 3 comes with design for portable reading, watching video, and doing work. Surface is a tablet with acts like a laptop.
The new 5-inch Lumia 830 is an impressive smartphone from Microsoft that powered by a 1.2GHz quad-core Snapdragon 400, 1GB of RAM, 16GB of storage, and lasting battery life up to 16 hours. Lumia 830 combines with 10-megapixel PureView camera that able to shoot high quality videos with excellent sound with its 3 mic Rich Recording.
Xiaomi, the world's 3rd largest smartphone maker has announced the launch of its flagship new stylish pocket-sized action cam – Yi Action Camera to rival the GoPro Hero with offers some impressive features.
Regardless of you is selfie lover or photography lover, there are a lots of new cameras designed with the sole intention of helping people to take great photographs. Range from digital camera, selfie camera, DSLR to wireless lens-style camera. Now you can bring your advanced camera with attach directly to your smartphone with Olympus Air A01. Olympus has introduced an entirely new type of lens-shaped wireless camera – Olympus Air A01 which similar to Sony QX Smart Lens that mounts to smartphone and controlled completely by smartphone.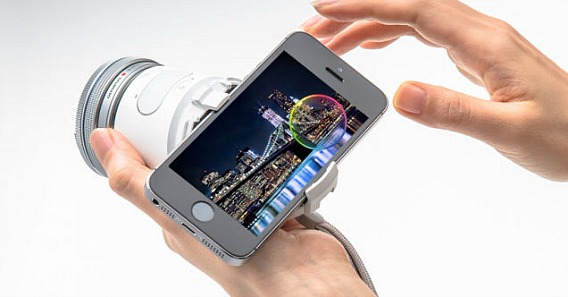 Continue reading »