Browsing articles tagged with "Google Search Archives - Tip and Trick"
Google has official announced removed the "View Image" button and "search by image" button in Google Image Search, in order to protect copyright of photographers and publishers.
In spite of "View Image" button has removed, Google still remain "Visit" button to maintain connect users to websites. Therefore, users have to wait for a website to load and then scroll through it to find the image.
Continue reading »
Halloween, Allhalloween, All Hallows' Eve, All Saints' Eve or known as the eve of the Western Christian feast of All Hallows' Day, is a yearly celebration observed in a number of countries on 31 October. But when come to costume idea for Halloween party, most of people will panic or stuck.
With Nepal 7.8-magnitude earthquake where phone lines were disrupted, Google and Facebook have launched their respective emergency tools – Google's Person Finder and FB Safety Check tool. Google's Person Finder was tracking about 7,100 records. Anyone can contribute to the records by enter a person's name, biographical information, and photograph into Google's database. You can use SMS to search information about that person or update information whether you are that person, or information on people that might have been lost or found. While Facebook safety check tool allows people to check or update safety check status on friends and family. The tool can be used to check on someone in your network.
For people who are using Gmail or other Google's services, you will need a Google account to sign in. Google has centralized for all Google services in one Google account. Google+ is a social network service from Google that integrated with other Google services, such as Gmail, Google Maps and Google Calendar. Google+ will make use of the Google search engine, existing Google Profiles, and the +1 button.
To give advertisement more attractive and increase market strategy, Google announced a policy change for advertisement that turns users into product pitchmen include Google+ users' faces, names and comments in ads. Google will create sponsored endorsements based on reviews it collects from YouTube, Zagat and other Google-controlled sites.
After long waiting, Microsoft has finally launched its next version operating system – Windows 8 on October 26th, 2012. Though Microsoft has determined to make Windows 8 mobile-friendly and touch-friendly with complete modern and intuitive user interface, but as the dominant desktop operating system, it strikes out Google and puses its own Bing and Internet Explorer to Windows 8. However, Google has launched a new page site to teach new Windows 8 users how to restore or add Google Search to their devices and to get Chrome.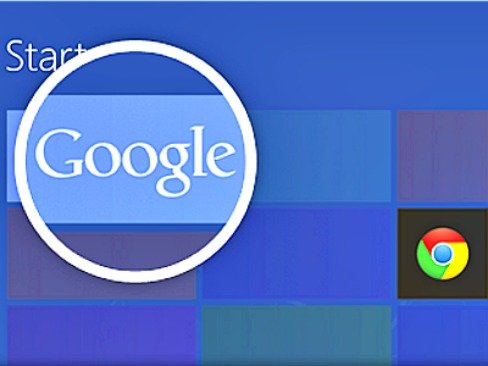 Continue reading »