Good news for Pebble Smartwatch users, Pebble Smartwatch app now supports Apple's iOS 7 notification centre service (ANCS). The new iOS App vastly improves the experience for owners with iOS 7 devices.



With latest update, it does allow all Notification Centre alerts to be displayed on the watch face of the Pebble hardware instead of limited to calls and text messages. In addition, Pebble Smartwatch also able to display notifications from apps like Twitter, Facebook, Google+, Calendar, Instagram, and more. Along with the new notification functionality, Pebble also improved its SDK up to version 2.0 that allow third-party developers to create apps directly from the web. New APIs have added Javascript, Accelerometer, Data Logging, and Persistent Storage.
Here's how to setup iOS 7 Notifications on Pebble Smartwatch
Before begin iOS 7 notification centre service (ANCS), you need to grab the latest version of the Pebble app from the App Store.
Launch the App Store app on iOS device to check for updates or alternatively download Pebble Smartwatch app free from the App Store.
Updated the app and launch the Pebble app on iOS device, the message will pop-up with check for watch's firmware. Once updated the app and watch firmware. Banner notification need to enable in order to send notifications to Pebble Smartwatch.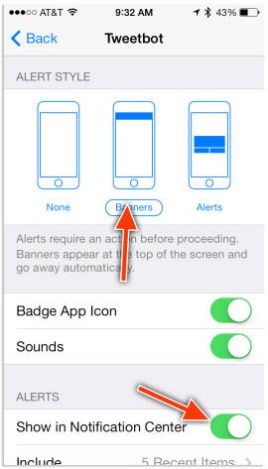 To enable Banner notifications, launch the Settings app on iOS device and then go to Notification Center. Select the app you'd like to send alerts to Pebble Smartwatch, and tap on the Banner option, along with the "Show in Notification Center" option at the bottom of the screen.
The app download requires an iOS device running iOS 7.0 or later.