Pangu has released a new version of jailbreaking tool for iOS devices such as iPhone, iPad and iPod running iOS 8.1. Pangu8 iOS 8 – 8.1 jailbreak, currently in v1.1.0, is able to jailbreak iPhone 6, 6 Plus, 5s, 5c, 5, 4s, all iPads, and iPod touch 5.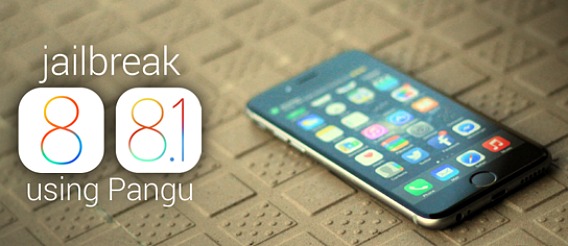 The Pangu8 v1.1.0 updated now includes installing Cydia automatically. Here are the step-by-step instructions for untethered jailbreaking with Pangu8 iOS 8 – 8.1. In order to use Pangu8 iOS 8 – 8.1 to jailbreak iPhone, iPod touch or iPad, the device must have been upgraded to run iOS version 8x. As currently Pangu8 iOS 8 – 8.1 is only available for Windows OS, users must have iTunes 12.0.1 or later installed on PC before begin.
Upgrade iPhone, iPad or iPod touch to official iOS 8.1 if not yet done. (Note: If you updated from iOS 7.x to 8.x via OTA then the jailbreak won't work)
Turn off any lock screen passcode or Touch ID (Settings > General > Touch ID & Passcode > turn off Simple Passcode) and Turn on Airplane mode.
Backup the iOS device completely through iTunes or using iCloud (Settings > iCloud > Storage & Backup and turn on iCloud Backup) before proceeding.
Download Pangu8 iOS 8 – 8.1 and connect your iPhone, iPad or iPod touch with PC through USB.

Right-click on the Pangu icon and then click on Run as Administrator.
Jailbreak the iOS device with Pangu8 iOS 8 – 8.1. Click on the blue "Start Jailbreak" button in the center of the display, and then click on "Already did" option on the next screen to begin the jailbreak.
Once Jailbreak succeeded, the Pangu app icon will appear on the home screen along with Cydia app.
Start Cydia and wait for it to completely load the main page, and then start install all the favourite tweaks.
Pangu8 support firmware version: iOS 8.0, 8.0.1, 8.0.2, and 8.1.
Update: Pangu Version 1.2.0 iOS 8 Untethered Jailbreak
Lists of Changelog of the update as follows:
Fix the issue that launched may drain CPU on 32bit devices.
Fix Safari reloading bug and occasionally crash problem.
Optimize jailbreak process.
Restore function now support iPad Air2/iPad Mini3.
If you are already jailbroken, you don't need to re-jailbreak. Simply update to latest Pangu untethered package 0.4 directly from Cydia.
Download Pangu8 1.2.0 for Windows