The Pangu Untether package version 0.4 for iOS has just been updated for both 32-bit and 64-bit devices and added in Cydia app. Pangu Untether package version 0.4 updated to fix overheating, over usage of CPU, and Safari bug fixes.


If you used an earlier version of Pangu already jailbroken, you don't need to re-jailbreak it. Simply launch Cydia from device home screen to update to the latest Pangu untethers. And then navigate to "Changes tab" and hit "Refresh" in the top right corner.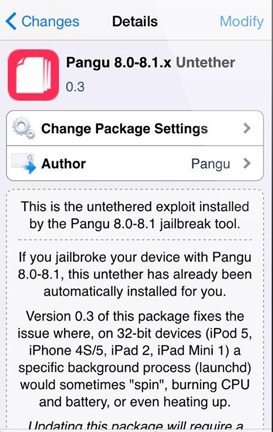 Once screen appear update on "Pangu 8.0-8.1.x Untether" package, simply update it to get to the latest version. After reboot, iOS device should running the latest Pangu untether version.
If you used an earlier version of Pangu that didn't include Cydia as part of jailbreak process, you need to install Cydia by simply launch the Pangu app from device home screen. Tap on "Install Cydia", and then tap on "Install" found in top right corner of the screen to begin install Cydia. Once finished install, reboot the device and the latest Cydia app icon will appear on device home screen.
For tutorials on how to jailbreak iOS 8.1 Untethered Using Pangu8 and install Cydia, just head to here.