Windows 10 launched in 190 countries with 7 versions and 111 languages. Windows 10 bring lots of new features such as Cortana, The Edge browser, Virtual desktops/Task View, Continuum, Action Center, and etc. Besides that, the most important is Windows 10 also bring a whole new array of keyboard accelerator keys that make it easier to work with menus and other commands and help users to navigate smoothly the latest OS.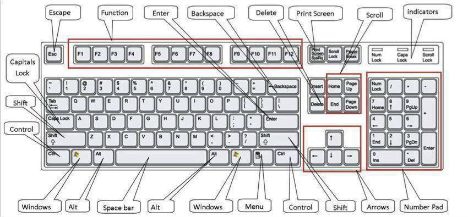 Although most of the shortcuts Windows 10 remain the same, but for those users who like to improve the speed of interaction with Windows 10 in new features including accessing Cortana, moving from virtual desktop to desktop, opening settings, and file explorer, can check the below for shortcut keys list.
Here's the full list of Windows 10 keyboard shortcuts or accelerator hotkeys, as published by Microsoft.
General
Windows Key – Show the Windows 10 Start Menu
Windows Key + Tab – Launch Task view
Windows Key + D – Show Windows desktop
Windows Key + X – Open Start button context menu
Windows Key + K – Open the Connect quick action (connect to wireless display and audio devices)
Windows Key + I – Open Settings
Windows + R – Run a command
Windows + P – Project a screen
Windows Key + E – Open File Explorer (Windows Explorer)
Windows Key + H – Open the Share content
Windows Key + T – Cycle through apps on the task bar
Windows Key + L – Lock Windows 10 device
Windows + Space – Switch keyboard input language (if you have added at least a second one)
Windows + Shift + [Left][Right] – Move current Window from one monitor to another (when using a multiple monitor setup)
Ctrl + Shift + Esc – Open Task Manager
Alt + Tab – Switch to previous window
Alt + Space – Restore, move, size, minimize, maximize or close current window
Alt + F4 – Close current window
Microsoft Edge
Ctrl + D – Add current site to favorites or reading list
Ctrl + J – Open downloads pane
Ctrl + I – Open favorites pane
Ctrl + H – Open history pane
Alt + C – Open Cortana
Ctrl + Shift + R – Enter reading view
F12 – Open F12 Developer Tools
F7 – Turn caret browsing on for the current tab
Ctrl + K – Duplicate tab
Ctrl + Shift + P – Open a new InPrivate Browsing window
Virtual Desktops
Windows Key + Ctrl + D – Create new virtual desktop
Windows Key + Ctrl + Right arrow – Switch between virtual desktops created on the right
Windows Key + Ctrl + Left arrow – Switch between virtual desktops created on the left
Windows Key + Ctrl + F4 – Close the virtual desktop
Windows Key + Tab – Launch Task view
Cortana
Windows Key‌ + Q – Launch search the web and Windows with Cortana (speech)
Windows Key‌ + S – Launch search the web and Windows with Cortana (keyboard input)
Windows Key‌ + C – Open Cortana in listening mode
Action Center
Windows Key + A – Open Windows 10 notification or Action center
Windows Key + V – Cycle through notifications
Windows Key + Shift + V – Cycle through notifications in reverse order
Windows Key + B – Set focus in the notification area
Game bar
Windows Key + G – Open Game bar when a game is open
Windows Key + Alt + G – Record the last 30 seconds
Windows Key + Alt + R – Start recording (press the shortcut again to stop recording)
Windows Key + Alt + Print Screen – Take a screenshot of your game
Windows Key + Alt + T – Show/hide recording timer