The latest version of Firefox 18 (FF18) is already available for free download through the Firefox official website ahead of the scheduled release date on January 08, 2013 for Windows, Mac, Linux, and Android.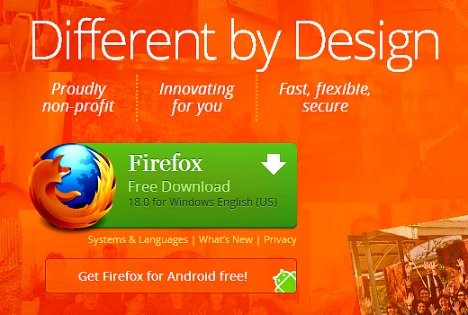 Firefox 18 does not have major cosmetic change though, but is nonetheless a major upgrade as it improves on Firefox performance and better image quality, which now is support for Retina Display, perform faster with new IonMonkey JavaScript engine, built-in PDF reader, and new HTML scaling algorithm for scaling images.
Also the latest Firefox 18 is preliminary support for the new in-browser WebRTC (Web Real-Time Communication) communications framework for real-time video and audio chats.
The changelog of Firefox 18 as below:
New – Faster JavaScript performance via IonMonkey compiler.
New – Support for Retina Display on OS X 10.7 and up.
New – Preliminary support for WebRTC.
Changed – Experience better image quality with our new HTML scaling algorithm.
Changed – Performance improvements around tab switching.
Developer – Support for new DOM property window.devicePixelRatio
Developer – Improvement in startup time through smart handling of signed extension certificates.
HTML5 – Support for W3C touch events implemented, taking the place of MozTouch events.
Fixed – Disable insecure content loading on HTTPS pages (62178).
Fixed – Improved responsiveness for users on proxies (769764).
After Firefox 18 is officially released, Firefox for Android will be update soon, likewise for Firefox for Android, it now also uses IonMonkey. The mobile browser integrated with the Google Now search widget and features opt-in search suggestions. In addition, it also includes new anti-phising and anti-malware features that warn users when they encounter a malicious website. Note: If you use Firefox on your Android device, make sure to check for app updates over on the Google play store.
The changelog of Firefox for Android as below:
New – Faster JavaScript performance via IonMonkey compiler.
New – Safe Browsing enabled.
New – Integration with Google Now search widget.
Changed – Support for loading new fonts delivered with Firefox.
Developed – Support for new DOM property window.devicePixelRatio.
Fixed – Disable insecure content loading on HTTPS pages (62178).
Fixed – Opt-in for search suggestions when entering text into the Awesome Bar (586885).
Fixed – Android 4.2: TalkBack announces that a page finished loading only after one touches the display (812480).
Download Firefox 18 prior to official launch on Firefox web page from the following links:
Windows: Firefox Setup 18.0.exe
Firefox for Android from Google play store: https://play.google.com/store/apps/details?id=org.mozilla.firefox