The newest version of Firefox 22 (FF22) has just been released, and is already available for free download through Firefox download page. The updated browser has added support for WebGL, Emscripten, asm.js, and WebRTC (Web Real-Time Communications) to makes up some ground in the browser wars with better performance.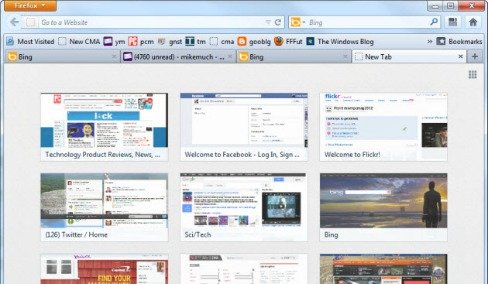 WebRTC allow web developers to integrate real-time audio and video connections between browsers without the need for plugins like Adobe Flash. Firefox 22 also enhanced JavaScript performance, asm.js which in conjunction with the Emscripten compiler to produce Web apps.
In addition, it support high resolution displays on Windows with HiDiPi and built-in Firefox HTML5 audio and video player.
Change Log of Firefox 22 for Windows, Mac and Linux:
NEW: WebRTC is now enabled by default
NEW: Windows: Firefox now follows display scaling options to render text larger on high-res displays
NEW: Mac OS X: Download progress in Dock application icon
NEW: HTML5 audio/video playback rate can now be changed
NEW: Social services management implemented in Add-ons Manager
NEW: asm.js optimizations (OdinMonkey) enabled for major performance improvements
CHANGED: Improved WebGL rendering performance through asynchronous canvas updates
CHANGED: Plain text files displayed within Firefox will now word-wrap
CHANGED: For user security, the |Components| object is no longer accessible from web content
CHANGED: Pointer Lock API can now be used outside of fullscreen
DEVELOPER: CSS3 Flexbox implemented and enabled by default
DEVELOPER: New Web Notifications API implemented
DEVELOPER: Added clipboardData API for JavaScript access to a user's clipboard
DEVELOPER: New built-in font inspector
HTML5: New HTML5 <data> and <time> elements
FIXED: Various security fixes
FIXED: Scrolling using some high-resolution-scroll aware touchpads feels slow (829952)
The Firefox 22 is officially released on June 25, 2013. Firefox 22 and all download links is available through firefox.com, or through its many mirrors available, or just use the following direct download links to download setup installer of Firefox 22:
Download Firefox 22 on Firefox web page from the following links:
Firefox 22 for Windows: Firefox Setup 22.0.exe
Firefox 22 for Mac OS X: Firefox 22.0.dmg
Firefox 22 for Linux (x86-x64): firefox-22.0.tar.bz2
The new version is also in Google Play where it can be installed on almost any Android device.