Microsoft has started released its long-awaited Windows 8.1 via Windows Update and Windows Store to all Windows 8 systems around the world with free update. Window 8.1 update is free for current owners of Windows 8. Windows 8 users will see a notification in the Windows Store with a prompt to upgrade to the Windows 8.1 operating system.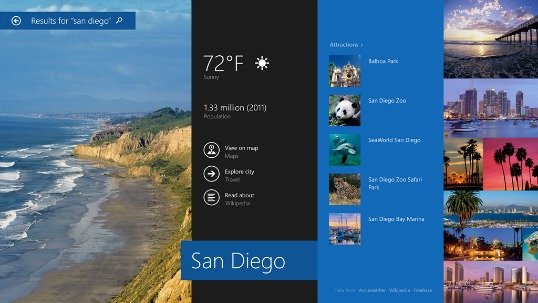 The free update for Windows 8 users will retain all desktop and Windows 8-style apps, including files and settings. While for Windows users who installed Windows 8.1 Preview from the Windows Store on top of Windows 8 operating system can directly download the final edition Windows 8.1 in the Windows Store, but apps will need to be reinstalled. Simply go to the Windows Store to find it or hit the link below to take advantage of the free download:
http://windows.microsoft.com/en-us/windows/buy
The changes in 8.1 include:
start button – tapping once on this brings up the tiled interface and a long press opens up system controls
desktop mode – lets people avoid the tiled interface entirely
keyboard shortcuts – removes the need to toggle between different on-screen keyboards when typing numbers and letters
gesture control – some applications, such as those for cooking, can now be paged through without touching a screen
tile sizing – the blocks on the touchscreen interface can be in one of four sizes
web browsing – Windows 8 machines will now display separate web pages side by side
If you are a consumer on a device running Windows 7, you will need to purchase the Windows 8.1 Standard version for $119.99 and Windows 8.1 Pro for $199.99.
Note: Windows 8.1 is not designed for installation on devices running Windows XP or Windows Vista. If you're running Windows Vista or earlier, qualify for the free upgrade to Windows 8.1 by purchasing Windows 8 now.
Watch the Windows 8.1 intro video