Browsing articles tagged with "Kaspersky Anti Virus Archives - Tip and Trick"
Kaspersky Anti-Virus is an advanced and famous security programs which cater particularly for home and home office users. To maintain its competitiveness and being part of marketing strategy, Kaspersky has released the upgraded version of its security software – Kaspersky Anti-Virus 2017. The new Kaspersky Anti-Virus 2017 offer comprehensive protection against malware, spyware, viruses, worms, hacker attacks, spam, etc.
In addition, Kaspersky Anti-Virus provides delivers essential and real-time protection against all manner of threats. Kaspersky Anti-Virus also works in background with intelligent scanning, frequent updates in order proactively protect from known and unknown threats.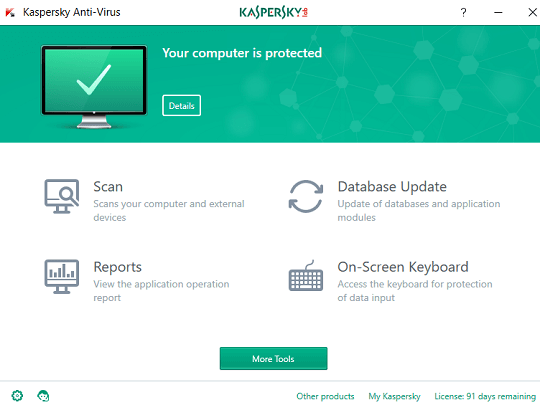 Continue reading »

 Kaspersky Internet Security (KIS) 2015 is an award-winning internet security product that delivers all-in-one security which protects users from all computer and Internet threats. It combines Kaspersky lab's leading antivirus software to provide strong protection against viruses and additional layers to complete protection of computer from all various digital threats while you're surfing the web, including a Two-Way Firewall, a Proactive Defense component offering protection from unknown threats, a Privacy Control component providing protection from Internet fraud, and a Safe Money component which protects your money during online banking, shopping and financial transactions.
Kaspersky Anti-Virus 2015 is a newest version of popular Kaspersky Anti-Virus series which provides real-time protection against viruses and spyware. It comes with easy-to-use solution that works behind-the-scenes with intelligent scanning and small, frequent updates, and keeps your PC free of Internet threats and Trojans. The new 2015 version improved with Windows 8 performance optimization, GUI speed, low resource consumption, and added new feature refreshed GUI.

 Kaspersky Anti-Virus 2013 is a complete antivirus security product which protects users from all computer threats with brings a refreshed user interface (UI) and several highly useful extra tools including a rescue disc creator, Windows troubleshooting assistant, privacy cleaner, and browser vulnerability scanner. With Kaspersky Anti-Virus 2013, users can stay safe and secure no matter what they does while offline and online, and prevent hackers attack.