Kaspersky Anti-Virus 2013 is a complete antivirus security product which protects users from all computer threats with brings a refreshed user interface (UI) and several highly useful extra tools including a rescue disc creator, Windows troubleshooting assistant, privacy cleaner, and browser vulnerability scanner. With Kaspersky Anti-Virus 2013, users can stay safe and secure no matter what they does while offline and online, and prevent hackers attack.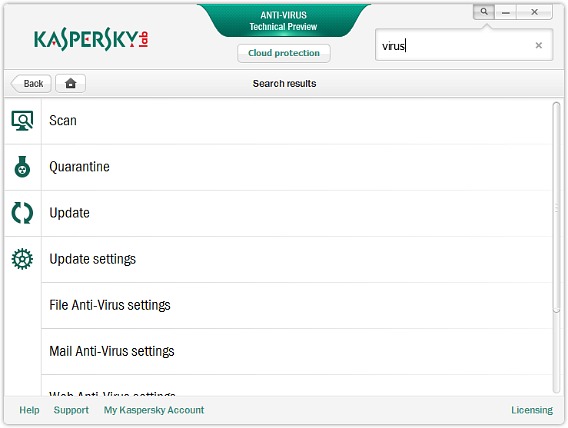 Kaspersky Anti-Virus 2013 spots a new UI feature that comes with simple user interface and supremely simple to navigate. It also features a desktop gadget for Windows 8 which provides quick viewing of protection status for the PC at a glance in color code. In addition, the latest Kaspersky Anti-Virus 2013 also continues to improve on its real-time proactive protection against all viruses, spyware, Trojans, rootkits, and more.
Features of Kaspersky Anti-Virus 2013:
Real-time proactive protection against viruses, spyware, Trojans, rootkits, and more.
Rapid detects and reaction to new and emerging threats.
Identifies suspicious websites and phishing websites.
Better anti-phishing protection.
Automatic Exploit Prevention to ensure vulnerabilities won't compromise PC.
Website and email scanning to detect malicious software.
Fast and efficient PC performance.
Optimized antivirus databases.
Instant safety checks on files, applications and websites.
Reduced Battery Drain.
Virtual Keyboard.
Kaspersky partnership with hardware manufacturer ASUS to giving away its Kaspersky Anti-Virus 2013 free 1 year license to the owners of high end Asus ROG (Republic of Gamers) range of motherboards. If you do not own an ASUS ROG motherboard, attempting to install Kaspersky Anti-Virus 2013 using their setup installer will fail with the error message. However, with some hack on installation and activate, it's available for all users instead of only those who have Asus ROG motherboards.
How to Get Free 1 Year Protection License Key for Kaspersky Anti-Virus 2013
Visit the following URL:
http://www.asus.com/event/2013/mb/KL_ASUS_ROG/index.htm
Click "Download Now" button to download KAV13014190_ROG.zip file.

Once downloaded, extract the zip file.

In the folder extracted, right click on the kavkis.msi to extract.

Note: This will extract cbi.dll file which is the activation file for product.
Go to C:\Program Files\ and create a folder "Kaspersky Lab". In the folder create "Kaspersky Anti-Virus 2013″ folder.
For 32-bit users:
C:\Program Files\Kaspersky Lab\Kaspersky Anti-Virus 2013
For 64-bit users:
C:\Program Files (x86)\Kaspersky Lab\Kaspersky Anti-Virus 2013
Copy the cbi.dll file into the folder Kaspersky Anti-Virus 2013.
Next, go to C:\ProgramData and create the folders "Kaspersky Lab", inside create "AVP13″, and then in folder "AVP13″ create "Data" folder. Note: The ProgramData folder is hidden by default, configure Windows to show hidden files and folders from Folder Options found in Control Panel.
C:\ProgramData\Kaspersky Lab\AVP13\Data
For Windows XP the Kaspersky Lab folder is in Documents and Settings:
C:\Documents and Settings\All Users\Application Data\Kaspersky Lab\AVP13\Data
When the manually create directory structure is done, get into KAV ROG folder , double click to open the kavkis.cab file (not the  msi from earlier). And then copy the Kaspersky license file with a name of _1AA7CD13.key into the Data folder created.

After Asus ROG license files is placed, download the latest version Kaspersky Anti-Virus 2013 setup installer from
http://www.kaspersky.com/anti-virus-latest-versions
Start the installation of Kaspersky Anti-Virus 2013, and then follow on screen instruction to complete the installation.
Activation should complete successfully, with ROG key which valid for 365 days.

Click Finish button to start running Kaspersky Anti-Virus 2013, fully licensed and fully activated for free.
Kaspersky Anti-Virus 2013 compatible with Windows XP, Windows Vista, Windows 7, and Windows 8. Check out other free anti-virus and Internet security offers.
Update: Kaspersky Internet Security 2015 Free 3 Months Genuine License Key Code