Browsing articles tagged with "Apple iTunes Archives - Page 2 of 2 - Tip and Trick"
Great news for iOS users! Now you can completely syncing an iOS device and iTunes over wireless which normally need plug your iOS device with USB cable into Mac or PC to connect. No more hunting around for the white USB cable. Never again will you have to scrabble around under your desk to try to plug the USB cable into your PC.
AirDisk Pro is a solution which enables iOS users uses their iPhone, iPad, or iPod touch as a Wi-Fi Flash Drive, file manager, and document reader.  AirDisk Pro is an easy to use app that allows iOS users to connect Mac or PC over Wi-Fi and transfer files by drag & drop straight from the Finder or Windows Explorer. With AirDisk Pro, iOS users can now easily and quickly manage and carry all files or documents even better than ever.
The 5K Retina display iMac is totally designed for photographers and videographers and anyone who wants to get powerful machine. The machine comes with 27-inch screen with a 5120 × 2880 screen resolution, or 5K "Retina" as Apple is calling it.
Good news for all Apple enthusiasts and who are looking to purchase Apple products but are tight of budget, Apple Inc is offering users great deal to buy refurbished Apple products – Mac, iPad, and iPod to save you some dough.  The price is offer from range 10 to 40 percent from current retail price. For example, a refurbished 15.4-inch MacBook Pro 2.6GHz Quad-core Intel i7 with Retina Display only costs $1,899, or save $600 less than retail price.

 Apple had its special October event that announced new iPads, a new Mac Mini, iMac, OS X Yosemite, and more. A new version of iTunes also announced by Apple which add few new features and bug fixes. New version of iTunes is designed to support OS X Yosemite features including Family Sharing to share purchases from iTunes, improved playlists, redesigned information window, and new icon. The iTunes 12 is available for both Windows and Mac OS X operating system, and is a must upgrade for users who plan to update to OS X Yosemite.
The new version of iTunes 11.1 has been released by Apple ahead of arrival of highly anticipated and long awaited iOS 7. iTunes 11.1 is essential to support iOS 7 and iCloud, which brings a whole bunch of new features including iTunes Radio, Genius Shuffle, and Podcast Stations, aiming to bring your iTunes experience to a next level.
With the iOS operating system getting more and more sophisticated, the catchphrase of Steve Jobs, it just works, may no longer be true. One of the main feature of iOS is iTunes Wi-Fi Sync, which when enabled, allow users to wirelessly sync iPhone, iPad and iPad mini to Apple iTunes application installed on Windows and Mac OS X.
Continue reading »
Apple has finally released the new version of highly anticipated iTunes, iTunes 11. iTunes 11 is essential to support iOS 6 and iCloud, as well as bring some minor changes to the program's user interface, more iCloud support, and a host of other improvements to make the iTunes experience a much improved from iTunes 10.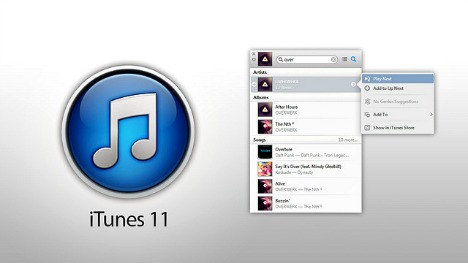 Continue reading »