The new version of iTunes 11.1 has been released by Apple ahead of arrival of highly anticipated and long awaited iOS 7. iTunes 11.1 is essential to support iOS 7 and iCloud, which brings a whole bunch of new features including iTunes Radio, Genius Shuffle, and Podcast Stations, aiming to bring your iTunes experience to a next level.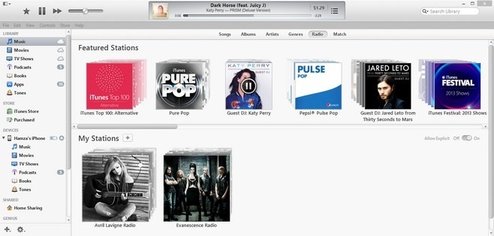 The changelog and features of iTunes 11.1 as on release notes:
iTunes Radio stream over 250 radio stations. Stations are stored in iCloud make it easy to switch between devices and keep listening without having to sync. You can add artists, songs and skipping tracks make stations more intelligent. iTunes Radio is free (with ads) and an ad-free version is available to subscribers of iTunes Match.
Genius Shuffle is a smarter shuffle for picks songs that go together for new way to experience music library.
Podcast Stations allows you to create custom stations of your favorite podcasts that update automatically with new episodes. Your stations, subscriptions, and current play position sync over iCloud to the Podcasts app for iOS.
Sync with iOS 7. You can now use iTunes to sync your favorite music, movies, and more to devices with iOS 7. In addition, iTunes now makes it even easier to quickly organize and sync apps to your iPhone, iPad, and iPod touch.
iTunes 11.1 is available now from Apple's site and users can download iTunes 11.1 from http://www.apple.com/itunes/download/. Alternatively, you may click on Help -> Check for Update, but apparently the automatic update channel is not updated with new version yet.
iTunes 11.1 Direct Download Links
iTunes 11.1 for Windows(32-bit) : https://secure-appldnld.apple.com/iTunes11/041-8597.20130918.PmmEw/iTunesSetup.exe
iTunes 11.1 for Windows(64-bit) : http://appldnld.apple.com/iTunes11/041-8598.20130918.Exe55/iTunes64Setup.exe