With Microsoft's release of OneNote for the Android and iPhone, and the software giant company announce that the Microsoft OneNote is now available for iPad.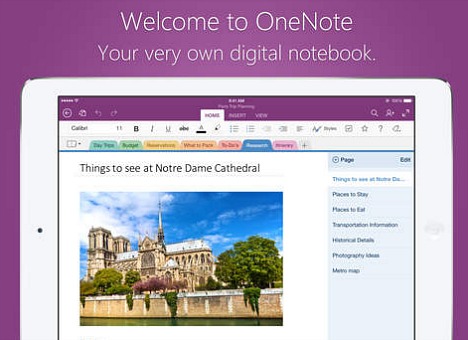 OneNote has been around as part of Microsoft Office since 2003. Microsoft OneNote is included in the Microsoft Office suite. Microsoft OneNote is a note-taking and personal information management (PIM) application for create simple or complex notes from scratch, organize OneNote data, browsable notebooks, and sync OneNote data among a variety of platforms through Microsoft's SkyDrive cloud storage service, including Windows, Mac, iPad and iPhone, and Android.
Features of the Microsoft OneNote for iPad includes:
Localization into several new languages and markets
Tabbed user interface
Quick note creation in the Unfiled Notes section
Table rendering
Improved Windows Live sign-in experience
Option to sync notebooks only over a Wi-Fi connection
Integrated upgrade option
Support for iPad and iPad 2
The Microsoft OneNote for iPad is now available as a free download from iTunes Appstore. The OneNote for iPad works well with iOS 7.1 or later.
Note: Windows Live ID is required to use OneNote for iPad (You can use an existing one or sign up new account).
Microsoft OneNote for iPad download here