With almost all popular anti-virus vendors giving away free license and updates subscription free period (for example, free Spyware Doctor with AntiVirus, free 1 year license of iolo Antivirus, free 90-day ESET Smart Security user name and password, free 6-month Avira AntiVir Premium 8 license, and free AVG 8.0 Anti-Virus), we certainly do not expect Kaspersky to be left out. In fact, Kaspersky is giving away its premium Kaspersky Internet Secuurity 7.0 (KIS 7) product.

Kaspersky Internet Security 7.0 expands the features as Kaspersky Anti-Virus, which focuses on anti-virus protected, and integrates together in a package with additional features for protection from all Internet threats. For example, Parental Control, personal firewall with IDS/IPS system, anti-spam filter, anti-phishing filter, Privacy Control, and many other modules. Kaspersky Internet Security 7.0 features hourly automated database updates, preliminary behavior analysis, on-going behavior analysis, real-time scanning for email, Internet traffic and files, protection from leaks of confidential data, rollback of malicious changes and self-defense of antivirus program being disabled or stopped. KIS7 also supports detection and removal of viruses, Trojans, worms, spyware, adware , keyloggers and rootkits, including attacks happen when using ICQ or other instant messaging clients, and provide tool to create Rescue Disk.
As part of promotion exclusively for customers of UBS in Switzerland to increase online Internet Banking security, Kaspersky is offering free licensed registration code which valid for 6 months with free support and unlimited hourly virus signature update subscription. The registration code is listed below. There is no need to register with your email whatsoever, simply enter the registration code to activate Kaspersky Internet Security 7.0 online to install license key with 6 months validity.
T6B6K-8YK22-VBQH7-ZUZJG
After you install KIV 7.0, you may notice that it still saying it's trial for 1 computer. However, a valid license key has been installed, although it's a trial key, but the key is valid for 6 months or 183 days from date of installation.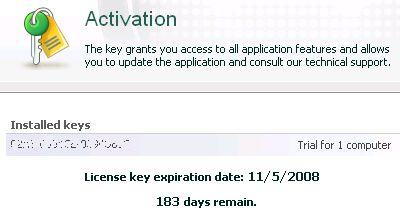 The download links on the campaign page are wrong (404 page not found). The latest version of Kaspersky Internet Security 7.0 for Home user can be found on product updates page or use the direct download links below for Kaspersky Internet Security Version 7.0.1.325.
English
Russian
Dutch
French
German
Italian
Polish
Portuguese
Portuguese (Brazil)
Spanish
There is also 1 year free subscription for German language Kaspersky Security Suite CBE, free 1 year subscription for official KIS 7.0/8.0/2009, and the activation code can be used to activate Kaspersky Internet Security 8.0 2009 for free too.
Update: Free activation exceeded. Try more free anti-virus and security software.