Browsing articles in "Internet"
Wanna send free International SMS to your friends? The world's largest social communications company on the web, Jaxtr has concerned of your needs with a new service that allows members to send free International SMS to anyone around the world, whether or not the recipient is a jaxtr member.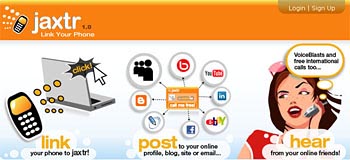 Continue reading »
Now you can make the joy of learning piano as accessible as possible with a revolution way through a perfect app – Pianu. Possibility, it would be the fastest and best way to learn piano for the beginner. You just need a web browser and internet connection to connect with your PC using a keyboard, tablet or smartphone. Additional software install is not required for this tool.

 OkayFreedom from Steganos is a well-known VPN (virtual private network) provider that provides the privacy and security to deliver one of the best VPN experience in the industry.
OkayFreedom offer simple VPN service enabling private such as hide user online activity from eavesdroppers, secures data being transmitted, and allows user to spoof their IP address to view content that is restricted in their country and automatically directs to a server over which the contents will be accessible. In addition, it VPN technology will ensures all traffic is encrypted and not visible to third-parties even when the user is with public network such as the wireless network at cafe and etc.
Halloween, Allhalloween, All Hallows' Eve, All Saints' Eve or known as the eve of the Western Christian feast of All Hallows' Day, is a yearly celebration observed in a number of countries on 31 October. But when come to costume idea for Halloween party, most of people will panic or stuck.
There are various map services apps which render free map service for smartphone or tablet users such as Google Map, PDF Maps, G Maps, etc to assist users who need help with directions or location reference. However, this all free mapping app are need data connection or WiFi in order to enjoy the features or viewing maps on smartphone. Therefore, sometimes it can be slow or problematic to view map when you don't have a data connection and the app also consume quite a bit of data connection.
Learn guitar can be learned in minutes, some in days, or maybe in weeks, but tuning guitar will sometimes take even longer. Tuning the guitar is the first thing every guitarist need to master.
Now, Microsoft Bing make tuning guitar become more easy with launch the latest program by updated its Bing search engine. The latest program is a handy tools for musicians – guitar tuner and metronome.

 YouTube is the most famous and largest video library available online, it allows us to search, stream and upload our favorite videos at the most easier way. However, YouTube is strict and changed its terms and conditions recently to prevent users from downloading videos to watch offline. However, there is still an alternative way to get this fixed by using the third party tool to save your favorite YouTube videos into PC and then sync them over iTunes to iPhone or iPad. Unfortunately, all this method makes it inconvenient and takes time to do this transition. In order to have a short cut way to save your favorite videos directly into iPhone where you can watch them at any time in offline mode, we found an app named "Video Download Browser" which able to downloading in extremely simple and convenient way. This app is Free of charge.
After released of WhatsApp Web for Android, WhatsApp Web took almost eight months to release WhatsApp Web for iPhone users due to Apple's platform limitations. When first launched, it was only available for Android, Blackberry, and Windows Phone. WhatsApp Web allows users on mobile devices to continue their conversation through their web browser which is easier and super handy for those who use a computer regularly.