Wanna send free International SMS to your friends? The world's largest social communications company on the web, Jaxtr has concerned of your needs with a new service that allows members to send free International SMS to anyone around the world, whether or not the recipient is a jaxtr member.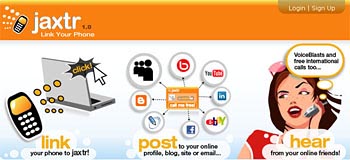 With this new web service, free International text messages can be sent to mobile phones in 38 countries including United States (US), United Kingdom (UK), Brazil, Hong Kong, India, Japan and Singapore, directly from the jaxtr web page.
"Jaxtr allows anyone to sign up for a free membership and start sending SMS messages internationally at absolutely no cost," said jaxtr co-founder and COO Touraj Parang. "You can SMS your friends and family abroad whether or not they are currently members of jaxtr. The moment you sign up for a free account at jaxtr.com, the world is literally at your fingertips."
According to the company, "Over 10 million people in 220 countries use jaxtr to receive calls from people visiting their social networking pages, to make calls to their friends and family worldwide and to get to know fellow jaxtr members on cafe jaxtr (www.cafejaxtr.com), the world's first global, mobile talk network."
Note: Free SMS is now offered only to premium paid subscribers.