Is your PC screen too bright, even though you have the settings turned all the way down? Good news to all Windows 10 PC users where running latest Windows 10 Insider Preview Build 10074. Microsoft introduces the major interface changes to its OS with features Windows Aero Glass and Dark mode. The Dark Mode feature which basically flips the translucent menu bar from light colour to black theme.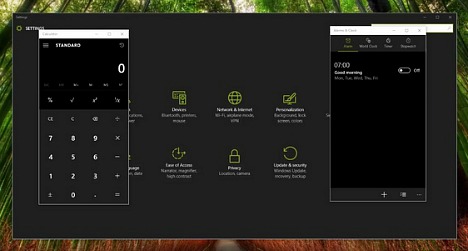 For some, the darker experience is well, especially when using PC in a poorly lit room or don't want someone read what you are typing, the following tip may help you to enable the dark mode on Windows 10 Build 10074 with a simple registry entry.
Note: Before enabling, it is highly recommend backup all system and data.
Here's how you can enable Dark Mode on Windows 10 Build 10074:
Simply press windows button and type "regedit" in search coloum to run command.
GO TO HKEY_CURRENT_USER\SOFTWARE\Microsoft\Windows\CurrentVersion\Themes\Personalize.
Next, right-click and "create DWORD" using the key SystemUsesLightTheme at the right screen.
Set the DWORD value to 0 (initially the value will be 0 by itself)
Once set the value to 0, the dark mode will enable.
However, if you get tired of dark mode of your PC, you can change back the setting anytime by just simply and easily change the DWORD to 1 from 0.