While it's nowhere near as comprehensive as WeatherBug or AccuWeather, BBC has just released a new standalone weather app for iOS and Android device – BBC Weather. Another new iOS and Android platform application joins other BBC offerings such as its popular News and iPlayer app.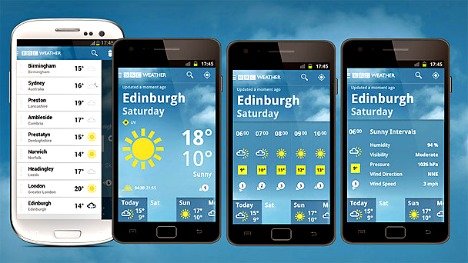 With its intuitive interface, the new BBC weather is designed to offer a quick forecast weather conditions for the day, hour-by-hour breakdown forecast for the next 48 hours (three-hourly for locations outside of the UK), and 5-day forecast. In addition, it also provide as well as information on UV readings, pollen count, temperature highs and lows, wind speed, and humidity.
Features of BBC Weather:
Location aware five-day forecasts and 48 hours of UK based hourly forecasts.
International locations and three hourly forecast details.
Extra detail for each hour including Visibility, Humidity and Pressure.
Settings to change your app preferences.
Ambient transitions to provide more context about the weather at your location.
Accessibility for screen readers via voice over.
An Android widget with a five-day overview.
BBC design principles with usability at the core.
The major features of the apps are the same for both iOS and Android platform but there are subtle differences in the interactions such as a left navigation menu with search and edit functionality for iOS, while action bar for search and home screen widget for Android and share favorite locations over Near Field Communication (NFC).
Unfortunately, BBC Weather app does not support live stream weather video for users checking weather on the go.
The Android version is now available from the Google Play store and the iOS version is available from the iTunes store.