The long awaited BBC iPlayer for Windows Phone 8 has finally been released following its availability on Android, iOS, and BlackBerry. BBC iPlayer is an internet television and radio service and software application developed by the BBC that allows users up to date and enables users to catch up on their favorites BBC shows on the go.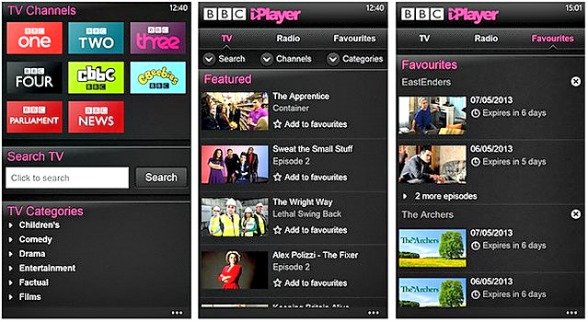 The iPlayer app itself consists of a shortcut to the mobile optimized version of the iPlayer website, a live tile for the home screen and a media player. In addition, iPlayer app allows users to stream weekly on-demand TV and radio content over WiFi and 3G from Windows handsets and has a favorites section (as with other iPlayer mobile apps) that lets users add episodes to watch later. Besides that, iPlayer also can be minimized to listen to BBC Radio in the background.
Features of iPlayer:
On demand content over Wi-Fi and 3G.
Add shows to your favourites so new episodes are quick to find for you to enjoy later.
Ability to listen to BBC Radio in the background.
Browse programmes by category, schedule, featured and most popular.
With an updated of BBC iPlayer site, it provides the essential support for Windows Phone 8 users to stream on-demand TV content. However, the platform limitations with Windows Phone 7.5 which meant that it unable to provide the same quality playback experience as on Windows Phone 8.
BBC iPlayer is now available free download for all operating systems such as iOS, Android, Blackberry os, and Windows Phone through the Windows Phone Store.