Finding a good restaurant while traveling is often a gamble. Many people maybe seeking out cuisine that is of Michelin fine dining quality only to find that the chef thinks a Michelin star is awarded for good restaurants. Zagat is a free trusted review of restaurants application from Handmark for android users. With this application, users can access the most trusted guides to restaurant available with information from over 45 Zagat guides. Zagat features both ratings and reviews, so that users will not make mistake when it comes to finding a great dining experience, no matter they are.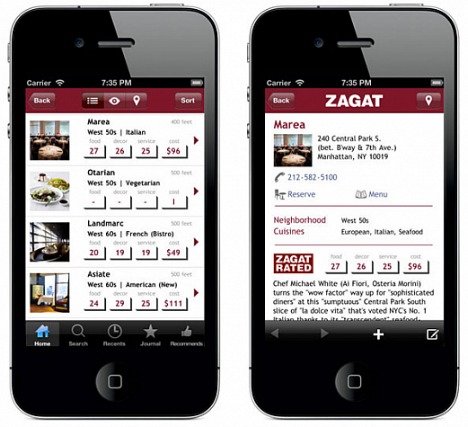 Features of Zagat:
100% free and re-built as part of Google
Browse over 30,000 restaurants in the world's top dining destinations
Find the perfect restaurant
Refine users search with 100+ filters, including cuisines, Zagat scores, cost, and dining features (e.g. patio dining, open late, child-friendly, etc.)
Be a critic – users quote could be printed in Zagat next restaurant guidebook
Zagat users from more than 100 countries worldwide can share their opinions and reviews through Zagat surveys. Zagat editors will summarize users' feedback into concise reviews with high standards of accuracy. The ratings and reviews are then published online and in Zagat guides.
Zagat is free download from Google play store, however users need to pay a subscription fee to keep using it after the trial period is up.
Donwload Zagat from Google play store: https://play.google.com/store/apps/details?id=com.google.zagat&hl=en
Zagat runs on android 2.2 and later versions.