YesShield is a simple-to-use, powerful and comprehensive data recovering software which is designed to easily, quickly recover and rescue lost or deleted document, photo, image, video, music, email and other file formats caused by inaccessible drive, unreadable partition, damaged partition, virus infection, unexpected system failure, and malicious activities. With YesShield, users can flexibly specify some of the partitions under protection and leaving the others excluded from protection. In addition, the YesShield also can keep MBR safe and keep files or folders safe.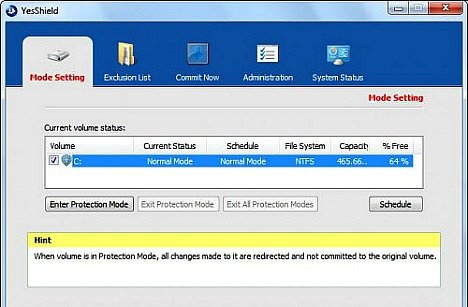 Key features of YesShield:
Maintain a system free from malicious activity.
Create a safe environment for testing software and game installations.
When sharing computers in a workplace or educational situation, protect your PC from unwanted changes.
Safely surf on the internet without unwanted traces.
Your system downtime is eliminated (because its safe from malicious software) and costs are saving and your PC can be back to its initial state (if it has been under malware attack) after reboot.
Enter the virtual system within a few clicks, no need to reboot.
Keep system MBR untouched and easy system restore after a reboot.
YesShield usually costs $35.00 for purchase. As part of Vimxsoft limited time promotion, interested Windows users are now entitled to download the full version of YesShield free of charge. This giveaway promotion will be expired on December 25, 2012.
To grab a free copy of full version for YesShield, simply download the setup installer of YesShield:
Windows 32bit – ys32-giveaway.exe
Windows 64bit – ys64-giveaway.exe
Once finish download, install it and enjoy the full version of YesShield.
Note: The giveaway edition does not require code to register
YesShield is compatible with Microsoft XP, Vista, and Windows 7 (32 & 64 bit) operating systems.