If CorelDRAW or Adobe's Illustrator seems to be too sophisticated and has too many features, the Windows image and photo editing tool, Xara Extreme 5, is always a good alternative if you just need some simple editing functions. Xara Extreme 5 is an easy to use graphics tool that offers flexible drawing, text, photo and web design tools which make it perfect for any creative work such as DTP designs, drawings, photo compositions, Flash animations or web graphics.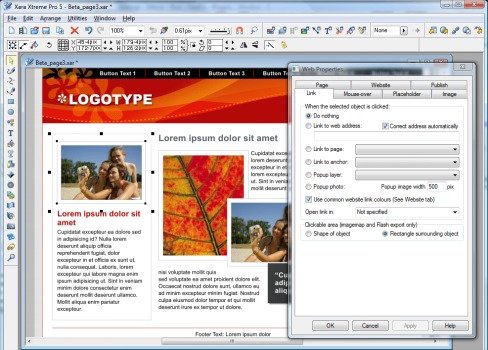 Besides, it has also features such as desktop publishing-type templates, content-aware rescaling, textured fills, variable transparency, drop shadows, bevels, 3D extrusion and lots more besides.
To promote its software, Xara is giving away the full version of Xara Extreme 5 normally costs $89 for free, as a promotion for all PC User. It's an older version, but still is a full feature software, and works in Windows 8, Windows 7, Windows Vista, Windows XP.
However, users can upgrade from Xara Xtreme 5 to Xara Xtreme Pro 5 for $159 which include shortcut key configuration, color separation support, PANTONE color support, PDF/X export, XPS support, multi-core processor support, the advanced object gallery, HD photo import and Panorama Studio.
Follow these steps in order to grab a free copy of Xara Xtreme 5:
Visit the Xara Xtreme 5 promotion page and press the "Download" button to download its setup installer, and then install it.
Once finished, run the Xara Xtreme 5.
The program will prompt to register the program. Click on the "Register online now" button.
Log into your account and click "Continue".
Note: if you don't have an account, select I don't have any login data, and I would like to register.
An email from Xara [email protected] with the subject of Your Xara product registration will be sent to registered email address containing the license key.
Active the product with license key code received.
Enjoy the freebie!