Are you interested in cultural knowledge? Now, there is a web based international library named World Digital Library, operated by United Nations Educational, Scientific and Cultural Organization (UNESCO) and United States Library of Congress which contains significant primary materials from countries and cultures around the world. It provides free resources for educators, scholars, and general audiences.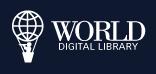 The World Digital Library (WDL) was launched in April 2009 with support by over 30 partners nationwide, mainly universities and libraries. Its current distinguished partners include Bibliotheca Alexandrina, Center for the Study of the History of Mexico CARSO, IFLA, King Abdullah University of Science and Technology, National Libraries in Brazil, China, France and Israel, Yale University Library, etc.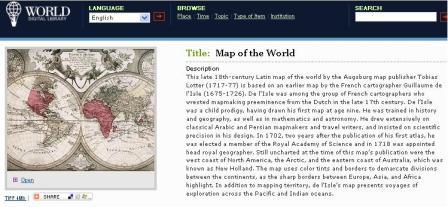 The WDL is a world cultural and historical treasure that contains a variety of materials in manuscripts, maps, rare books, films, sound recordings, prints, photographs and architectural drawings from 8000 BC to the present day. The website provides multiple ways of presentation. From the main page, the content is organized by geographic region on a world map with a timeline control bar. Drag the control bar to a specified timeline, and the contents on the world map will change accordingly to reflect the on the timeline. Alternatively, the WDL contents can be browsed by time, place, topic, type of items or institution as well as searched by keyword. At its launch, the WDL has about 1,170 items and interface available in Arabic, Chinese, English, French, Portuguese, Russian and Spanish.
If you are interested in various countries' cultures, you might find priceless treasures in the World Digital Library.