Tencent QQ, an instant messaging service hugely popular in China, has a QQ-Mail e-mail service which provides a document interchange file hosting and storage space that allows users to upload files as big as 1 GB for sharing with friends or sent through email or posted on blogs and websites for everybody's downloading.

Anybody who the download link to the file on QQ-Mail Document Interchange and the retrieval code can download the file stored file. However, sometimes, downloader may get a busy message instead of downloading the file which says "Too many people is downloading the file, please try again later." Although direct download link on HTTP to the file on QQ server is displayed, however user cannot download it and when clicked, will get the above error message.
To fix the problem, use the following workaround trick. When you see the error message that too many people is downloading the file now, click on Learn more about extra big email attachment link on the right pane.

Then click on Login to QQ-Mail, experience extra big attachment button, and enter your QQ-Mail user name and password (QQ IM user ID and password can be used directly to login) to login to QQ mailbox.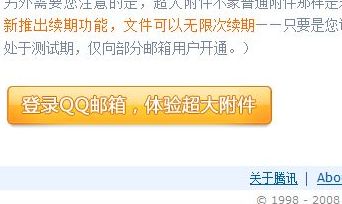 After logging on to QQ-Mail, click on the download link to the file on the QQ-Mail Document Exchange (which looks similar to http://xianexs.mail.qq.com/cgi-bin/downloadfilepart/…), and the file should be able to be downloaded now. The trick works because QQ gives privileges to users who use the Document Exchange to send extra large attachments, and the recipients who receive the attachment will have priority queue to download the shared files.