Windows XP Service Pack 3 (SP3) final version has been packed, published, and released to manufacturing on April 21, 2008 US time. However, only Original Equipment Manufacturers (OEM channel) will have access to the code bits of Windows XP SP3, while general public can starts download from April 29 onwards, as scheduled. Windows XP SP3 has final version of 5.1 and build number 5512 (5.1.2600.5512), a little higher than Windows XP RC2 Refresh (v.5508), but not the speculated build 5573.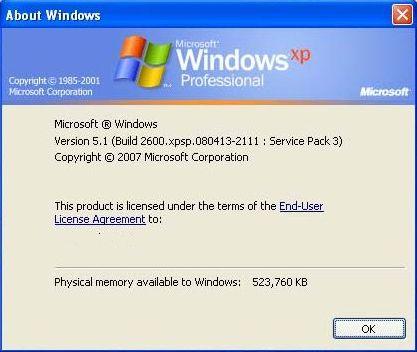 Chris Keroack, Release Manager for Windows XP Service Pack 3 from Windows Serviceability section says the following on TechNet forum:
Today we are happy to announce that Windows XP Service Pack 3 (SP3) has released to manufacturing (RTM). Windows XP SP3 bits are now working their way through our manufacturing channels to be available to OEM and Enterprise customers.

We are also in the final stages of preparing for release to the web (i.e. you!) on April 29th, via Windows Update and the Microsoft Download Center. Online documentation for Windows XP SP3, such as Microsoft Knowledge Base articles and the Microsoft TechNet Windows XP TechCenter, will be updated then. For customers who use Windows XP at home, Windows XP SP3 Automatic Update distribution for users at home will begin in early summer.

Thanks to everyone here who installed the public betas – you not only gave us detailed feedback but also helped each other out with timely troubleshooting. Through the beta program we found several important issues and were able to confirm some essential fixes. We couldn't have done this without you.

We will still be monitoring this forum during the next few weeks in case you have more feedback about the release of Windows XP SP3.

On behalf of myself, Shashank Bansal and Windows Serviceability, many thanks.
Chris Keroack also confirmed that build number for Windows XP SP3 is 5512.
Update: Official download links for Windows XP SP3 via Windows Update.
Standalone update package for Windows XP SP3 has leaked, and users can now download Windows XP SP3 setup installer via torrent or HTTP download. Or download Windows XP with SP3 integrated.
The CD disc image for Windows XP SP3 and standalone installer package downloaded via Microsoft Download Center has the size of roughly 580 MB, while download via Windows Update starts from 70 MB. The service pack 3 only intends for 32-bit edition of Windows XP, and not applicable to the 64-bit version of Windows XP. It can be installed on Windows XP with base install of SP1 or SP2, and works with any edition of XP. It's also reported that system installed with Windows XP SP3 RC v.3300 or later can upgrade directly to final version of SP3 without need to uninstall beta or release candidate versions of XP SP3.