Microsoft has published an official Windows XP SP3 release schedule timeline by distribution channel that confirm previously reported that Windows XP SP3 is released to manufacturing (RTM) on April 21st, 2008, and will be released to web (RTW) on April 29th 2008 (US Time).

Windows XP SP3 Final Build 5512 Release Schedule Timeline by Channels
RTM (Release to Manufacturing): April 21, 2008
OEM Channel: April 21, 2008
Windows Update: April 29, 2008
Download Center: April 29, 2008
MSDN/TechNet Download: May 2, 2008
Windows XP SP3 Fulfillment Media: May 19, 2008
VL Customers via Download: June 1, 2008
Automatic Updates: June 10, 2008
Note: Release to Web (RTW) via WU and MDC has been delayed, re-released early May.
The schedule was originally published on a MSDN blog, but since has been taken down, indicated a possible re-scheduling for earlier MSDN/TechNet release (MSDN/TechNet release is way earlier). Anyway, here's the screenshot of the announcement.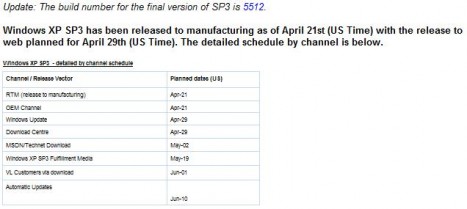 However, it's not clear today's RTM is for all languages or 7 languages edition which include English, French, German, Spanish, Simplified Chinese, Japanese and Korean. Previous report indicated that the release of Windows XP SP3 will be in 2 waves, with the rest of languages published on May 5.
Also interesting to note that, if Microsoft is not giving in to pressure, there probably won't be any 'leaked' version of Windows XP SP3 as MSDN/TechNet subscribers, the major source of most leak, now have access to the downloads later than general release via web.
There is now leaked Windows XP SP3 RTM build 5512 standalone installer, official XP SP3 setup installer from Windows Update, and slipstreamed Windows XP with SP3.