Dell XPS PRODUCT (RED) notebook and desktop PC comes with a signature screen saver on top of other customization freebies. The PRODUCT (RED) screensaver is unique in such a way that it's red in background color, and able to display and shown on screen saver when activated, picture and photos from user's Pictures folder and its sub-folders. The images are displayed on screen saver in similar way to slide show, but as many as 5 of the pics are shown at anytime in different overlapping location.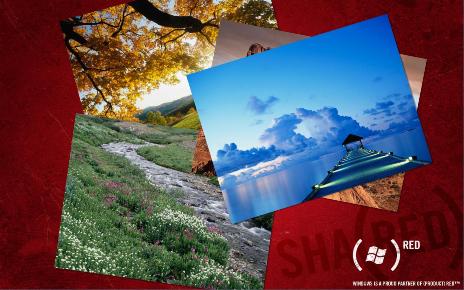 If you're interested in PRODUCT (RED) screen saver, download the REDScreenSaver.rar, and then unpack it to get PRODUCTRED.scr screen saver file. Right click on the PRODUCTRED.scr and choose Install to activate the ProductRED screen saver. Alternatively, copy the PRODUCTRED.scr to C:\Windows\System32\ folder so that it appears in the screen saver selection list.
Also check out more exclusive Product (RED) customizations for Windows.