Voice Recorder is one of the awesome application bundled with Windows 10 features for recording lectures, interviews, conversations, and other sounds (previously called Sound Recorder). Voice Recorder is an app replaces for classic Desktop app.
To improve work speed and efficiency, keyboard shortcuts are solution when using the app. Keyboard shortcuts consist one key or combination of two or more keys that allow users an easier way to interact with computer applications without the need to use a mouse to perform the operation. In addition, keyboard shortcuts also allow users to work with virtually every command or feature by using the keyboard.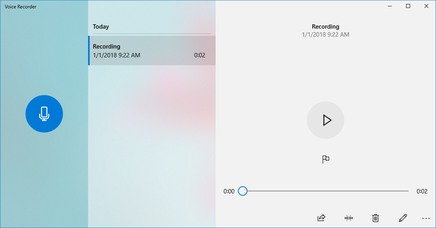 Here's the full list of Voice Recorder keyboard shortcuts or accelerator hotkeys that are available:
Ctrl + R : Start a new recording
Ctrl + M : Add a new marker to the recording
Delete : Delete the selected recording
Spacebar : Play or pause
Backspace : Go back
F2 : Rename your recording
Left / Right arrow : Jump ahead or back while playing a recording
Shift + Left / Right arrow : Jump further ahead or back
Home : Jump to the start of the recording
End : Jump to the end of the recording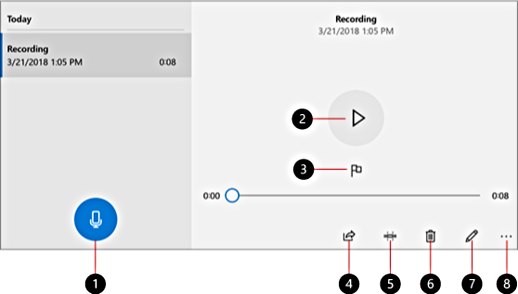 To begin using the Voice Recorder app, hit the big Record button (1), and add markers (3) to identify key moments for record or play (2). Next, you can trim (5), rename (7), or share the recordings (4). Select the trash can icon (6) to delete recording, or the three dots (8) for more options. The recording file will saved in Documents > Sound Recordings.
You can share or follow us on Twitter, add us to your circle on Google+ or like our Facebook page to keep yourself updated on all the latest info from Microsoft, Google, Apple and the Web.