Following the release of the Windows 10 Insider Preview Build 17634 for PC, Microsoft has released Windows 10 Build 17639 for Insiders in Skip Ahead for PC. A part of fixes and improvement, the build also brings lot of new features.
Here what's new for Windows 10 Build 17639 according Microsoft:
The next wave of Sets improvements is here
What belongs together stays together – we designed Sets to help you keep webpages, documents, files, and apps connected. We've been hard at work since our first wave of Sets improvements for RS5, and when you install today's build you'll find:
Drag and drop app tabs within and between Sets windows is now supported: It works just like it sounds! You can now drag an app tab around within the Set or combine tabbed app windows into Sets.
Note: If you open a Microsoft Edge tab outside of a Set, you can't drag and drop it into a Sets window. Drag and drop for Microsoft Edge web tabs within Sets isn't supported yet and you may experience a crash if this is attempted.
Tabs are now bubbled up in Alt + Tab: Have Photos, Microsoft Edge, and OneNote tabbed together? You can now use Alt + Tab to switch between them. Prefer to only show the primary window in Alt + Tab? There's a new setting – more on that in just a moment…
Note: If you have multiple Microsoft Edge windows in a Set, only the one most recently accessed will be visible in Alt + Tab.
Improved Settings for Sets: We've updated the Settings for Sets via Settings > System > Multitasking. To start with, Sets now has its own section on this page, and is searchable (try typing "Sets" or "tabs" and it will appear in the dropdown). We've also added a setting to control the Alt + Tab behavior mentioned above.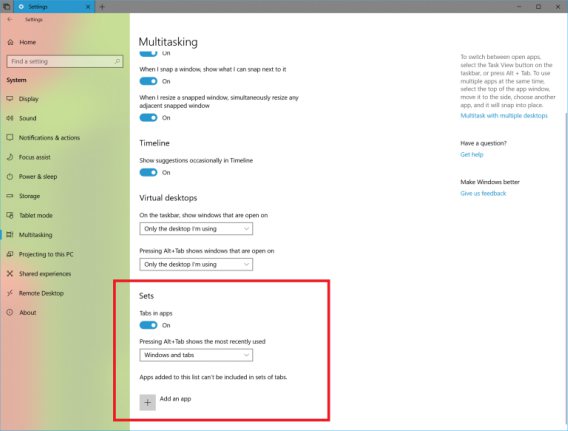 File Explorer & Sets Improvements: We've heard your feedback – you'd like it to be easier to get two File Explorer windows grouped together, and we're working on it. To start with, you no longer need to hold CTRL on the new tab page to launch a File Explorer window in a tab (this was a temporary necessity with the last wave). We've also added a new keyboard shortcut to open a new tab when a File Explorer window is in focus: Ctrl + T. Remember, you can use Ctrl + N to open a new window, and Ctrl + W to close the window/tab.
Finally, we've added some new UI for easily opening new tabs and windows in the File Menu. And also, in the context menu when right-clicking on a folder.
New context menu options for tabs in Sets: If you right-click on a Sets tab, you'll discover we've added several options for you to leverage, including "close other tabs", "move to new window", and "close tabs to the right".
For full details can go to Microsoft page HERE
Here the full list of what's fixes, changes, improvements for Windows 10 Build 17639 according Microsoft:
We fixed an issue resulting in duplicate entries in Disk Management.
We fixed an issue that could result in certain UWP apps silently terminating when minimized.
We fixed an issue resulting in certain devices with BitLocker enabled unexpectedly booting into BitLocker recovery in recent flights.
We fixed a race condition that could result in the taskbar not autohiding after opening and closing the Start menu while a fullscreen window was visible.
We fixed an issue where typing in Start would switch to a blank Cortana screen if Start was open when the PC went to sleep.
We fixed an issue when using Arabic as your display language where after using the X to close the touch keyboard in a UWP app text field it might stop coming up automatically in that field.
Sometimes having too many choices can be confusing and less is more. That is why this new build has consolidated the places where users can adjust their display brightness by removing the display brightness slider in Control Panel Power Options and the "Display brightness" section under Power Options Advanced Settings. Don't worry! You can still adjust your display brightness via Settings > System > Display settings, the Action Center, and via keyboard hot keys.
Here the full list of what's known issues for Windows 10 Build 17639 according Microsoft:
If you open Settings and clicking on any links to the Microsoft Store or links in tips, Settings will crash. This includes the links to get themes and fonts from the Microsoft Store, as well as the link to Windows Defender.
On resuming from sleep, the desktop may be momentarily visible before the Lock screen displays as expected.
When Movies & TV user denies access to its videos library (through the "Let Movies & TV access your videos library?" popup window or through Windows privacy settings), Movies & TV crashes when the user navigates to the "Personal" tab.
Source: Microsoft
You can share or follow us on Twitter, add us to your circle on Google+ or like our Facebook page to keep yourself updated on all the latest info from Microsoft, Google, Apple and the Web.