Do you feel discomfort and pain on your wrist while using a computer mouse for too long? It might cause injury to your wrist if you continuously use it for work or play. Now, the newly launched Whirl Mini Notebook Mouse which has been designed with ErgoMotion technology will provide extra comfort and reduce the risk of Repetitive Stress Injury (RSI) on your wrist and hand.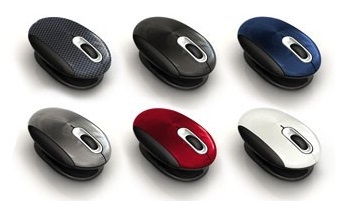 The ErgoMotion is a new technology of movement. The Whirl mini mouse with this innovative technology will adapt your hand motion naturally. It can be leaned, swivelled or pivoted automatically to suit your movement so that your hand and wrist will never be forced to a fixed position like all other conventional mouse. This will reduce your arm and wrist tension and create extra comfort for your hand. The Whirl Mini Notebook Mouse was developed by Smartfish Technologies with the assistance of New York's Orthopedic Hospital.
The Whirl has an ambidextrous design. It is designed for both left and right handed users. It also features 1600-dpi hi-def laser sensitivity that is more responsive on every surface than traditional optical technology. The other features of the Whirl Mini Mouse include plug and play capability, compatibility with Mac and PC, and 2.4GHz nano-receiver for wireless connectivity.
The mouse comes in various colors. It is available in metallic black, metallic white, metallic blue, metallic red and silver from Smartfish at US$49.95.