We believed that by now, anyone who has a personal computer, notebook or laptop will have used either one of these free webmail – Windows Live Hotmail, Gmail or Yahoo! Mail. For those who are still undecided on which is the best and free webmail to choose, here are the comparison.


Windows Live Hotmail
Windows Live Hotmail is no doubt one of the earliest free webmail around and is very flexible. Its display is easily customizable from choosing your favourite colours to moving or arranging those reading panels.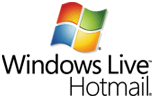 Similar to Yahoo Mail, Hotmail also offers a full preview of emails, a feature where Gmail is still lacking. And for around USD20 per year, users can opt for its paid version, Windows Live Hotmail Plus, if you needed an upsize on the storage and attachment sizes and to eliminate advertisements from other companies. Speed wise, Gmail is still the preferred choice.
Gmail
Gmail gets the thumbs up for its speed, ease of use, unobtrusive text ads and excellent free features. Just like Google Search, Gmail's search engine is remarkably efficient.

Coupled with the use of assigning multiple coloured labels to individual emails which automatically organizes related messages into threads, searching from loads of emails has never been easier. Users can even use Gmail independently, unconnected to the Internet, or access it through desktop email software such as Outlook, Windows Mail or Apple Mail. Though users might takes some time getting used to its interface, you'll eventually learn to appreciate it more. Gmail also features automatic synchronization with its IMAP support.
Gmail is the only free webmail provider which can support sending 20 MB in a single email messages. Advertisements shown on Gmail are limited to text messages only, unlike those obtrusive ads in Yahoo! Mail. And with Gmail Lab, it is continuously adding more useful new features such as offline access, undo sent mail, auto-complete, viewing multiple inboxes etc.
Yahoo! Mail
Yahoo! Mail is currently the only webmail provider to offer unlimited storage. The main difference between Yahoo! and Gmail boil down to their display interfaces. Those who prefer drag-and-drop folders as in most email program will find that Yahoo! Mail very user-friendly and easy to learn.

Ads in the Yahoo Mail free version can be rather annoying and its poor spam filtering isn't helping much either. For a USD20 per year, users can upgrade to Yahoo! Mail Plus to avoid the above problems. This paid version also adds POP support, which allows users to forward emails to another account.