VMWare Server 2.0 (currently in Beta 2 release) has departed significantly from legacy VMWare Server 1.0. It's still a free virtualization software to users to create, manage and run virtual machines, but instead of usual standalone desktop (or notebook laptop) based application, VMWare Server 2.0 now runs solely on web-based management user interface, plus many other new features, enhancements and improvements.

To log in to VMWare Server 2.0, users will have to access https://localhost:8333/ui/ or http://localhost:8222/ui/ for non-secure connection (the URL may takes the form of your computer name) with a web browser to come to VMware Infrastructure (VI) Web Access management interface, which is VMWare Server Console, normally simply call Web-UI. Don't worry about your system doesn't have a web server such as Apache or Microsoft IIS running, VMWare Server 2.0 install Tomcat web server in the background.
But users will come to a VI Credentials page asking for Login Name and Password, as shown in the screenshot below.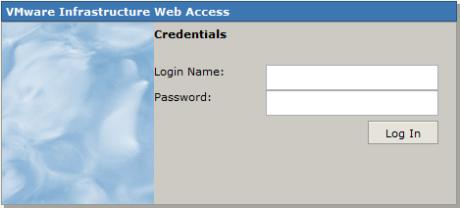 What login user name and password to use? This probably your first installation of VMWare Server 2.0, and even if you have installed VMWare Server 1.0 before, it never ask for creation of any user account or its user ID or password during installation of whatever versions. And searching up and down in Start Menu's VMWare Server program folder doesn't reveal any program to create or manage user's login name for VMWare console too.
Actually, VMWare Infrastructure Web Access, and hence VMWare Server 2.0, uses user account of the operating system, i.e Windows XP, Windows Vista, Windows Server 2003, Windows Server 2008 and Linux distro. So to login to VMWare Server 2.0 Web Console, logon with an administrative account's user name of Windows or Linux (Administrator or root) and the corresponding password. Note the password is a must. In Windows, most built-in Administrator account does not have password by default even after been enabled, and so a password must be assigned.
It's possible to create and add another user account with administrator's privileges specially for VMWare Server login purpose.