Since its inception, computer has evolved from giant computing machines to personal computer, to notebooks or laptops, and also netbooks. Breaking away from this norm is the all new Litl Webbook that offers a completely fresh and simple way to enjoy online contents and social interactivity of the web with high-quality TV-like viewing of digital contents. The unique 12-inch LCD Litl Webbook which can be bend almost completely backwards, thus turning the system into an easel-like display, is a small-sized, low powered and low cost computer system that is always on, with no need to log in to any OS or launch any browser. The Litl's interface is extremely easy to use, eliminating cumbersome menus, folders and icons too.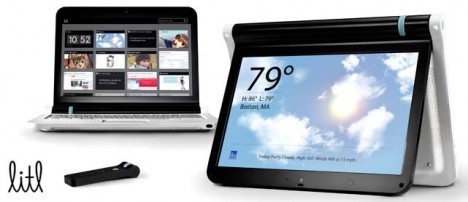 Unlike PCs that are complex and troublesome to maintain, the Litl webbook was created with a fresh approach that makes enjoying online photos and using the web simple, enjoyable and fun to everyone – from kids to parents and even grandparents. When not in used as a conventional laptop, the Litl webbook's 12" screen and keyboard flip around its patented hinge so the computer can stand upright like an easel. With its screen exposed, the litl webbook is now ideal for passive or "lean back" web activity like enjoying photos, listening to music, or consuming news, weather, and other web contents.

For an even more social experience, the Litl webbook also offers plug-and-play connectivity to larger screen or HDTV by way of a convenient HDMI (High-Definition Multimedia Interface) output port. To further enhance this TV-like experience, there is the innovative and easy to navigate control hinge-mounted scroll wheel for changing the web "channels", replacing the usual keyboard, touch screen, mouse and touchpad.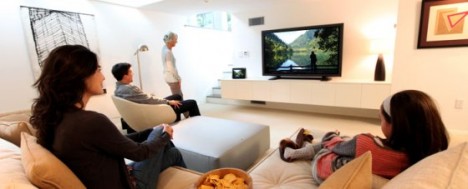 RSS feeds can easily be enjoyed in the litl webbook's new "easel" viewing mode, not to mention several other popular websites such as Flickr, Shutterfly, and Facebook. Litl has, in addition, collaborated with The Weather Channel to develop a channel that visually displays local weather conditions and 5-day forecasts.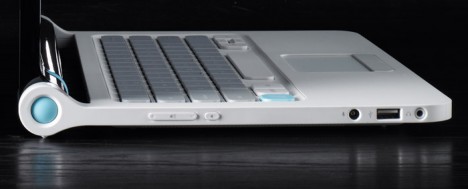 While most computers require administration, upgrades, updates, downloads and backups, the new litl webbook was designed to eliminate all those and will automatically updates itself, patches security gaps, and optimizes its technical performance. And since there is no hard drive, this Litl webbook will never crash like the way PCs do.
Retailing online at $699, with an optional remote control for $19, the Litl Webbook might just be slightly higher priced than the average netbooks, but definitely worth the experience. You'll be amazed by its simplicity.