The well-known manufacturer of a large proportion of the world's hard disks, Western Digital has recently launched a new line of external/portable USB drives, named as My Passport Elite, which weights less than 5 ounces, aiming to make it easy to carry the important files and e-mail between work and home or on the road and keeping them in sync.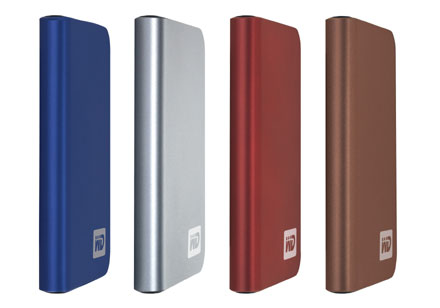 Key Features Of Western Digital My Passport Elite:
Capacity gauge that enables users to know at-a-glance how much space is available
Powerful automatic backup software lets users designate files and folders for automatic and continuous backup
Synchronization software that lets users sync their changes and protect their information with 128-bit encryption
Retrieve forgotten files from any MioNet-enabled PC (compatible with Windows only) and copy them to My Passport Elite with MioNet installed allowing users to retrieve forgotten files from the road using the unique MioNet Key software
Plug-and-play capability with gaming consoles (Xbox 360 and Sony PS3) to make it easy to play music and view photos and video files on a TV
"Your digital content is as personal today as photos in shoeboxes and racks of CDs were yesterday," said Jim Welsh, vice president and general manager of WD's branded products and consumer electronics groups. "The device that securely holds your content should be just as personal. Having listened to our customers, we are expanding the options available on our WD Passport family of personal storage devices with more features, content management functions and fashionable design."
The new Western Digital's My Passport Elite portable USB drives that comes with four elegant, soft-touch colors including bronze, titanium, westminster blue and cherry red is available now at 250 GB and 320 GB storage capacities for about $170 and $200, respectively.