If you want to check the weather conditions in real time for places around the world, you can do so with Weather Underground. Weather Underground is a reliable and in-depth weather data for locations across the world. As its name implies, there are more than 24,000 locations globally. With a few clicks, it will provide real-time online weather information to millions of Web users around the world.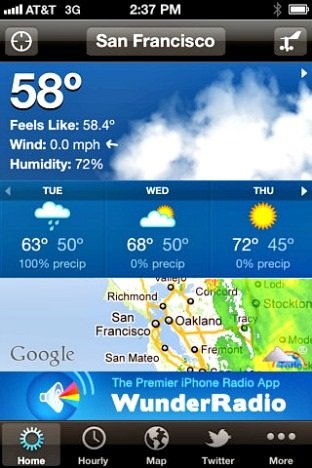 Features of Weather Underground:
7-day Forecasts including text summary
Hourly Forecasts including sunrise and sunset
Current conditions from your local weather station include temperature, feels like temperatures, wind speed and direction, humidity, dew point, visibility, pressure, gusts and moon phase
Interactive Maps showing all weather stations
List view of saved Favorite Locations and Recent Searches
Twitter Integration – share weather data straight onto Twitter handle and follow wunderground Twitter Feed
Snow and Winter Sport reports
Weather commentary from Dr Masters
National Weather Service Radio
The world's largest network of personal weather stations, Weather Underground offers a faster, ad-free paid membership that normally cost $10 per year. For this promotional offer, new and current users can upgrades as a paid membership for free by entering a promotion code received.
To register for the Weather Underground Offer, just simply head to official site signup as member and upgrade as paid membership. The registered members will receive an email with a promotion code and instructions for the upgrade offer.
Note: The paid membership comes with longer radar animations, ad-free weather, ad-free U.S. forecasts & alerts through e-mail.
Register for Weather Underground Offer at https://www.wunderground.com/members/signup.asp