Definitely a must-have apparatus for those outdoor enthusiasts who love boating activities, bird watching, wildlife observation or even stargazing. Introducing the all-weather and waterproof Canon 10x42L IS WP binocular that incorporates all the rugged features suited for harsh open air activities. Boasting the exclusive Canon's state-of-the-art Image Stabilizer technology, the 10x42L IS WP binocular provides a steady and shake-free viewing experience.



Coupled with the high quality L series optics, featuring 2 Ultra-low Dispersion (UD) lens elements, the Canon 10x42L IS WP binocular delivers excellent correction for chromatic aberration, thus producing sharper and crisper images. Comes with a large lens diameter and a 4.2mm exit pupil diameter, this binocular provides an exceptionally bright view, even in low lighting conditions.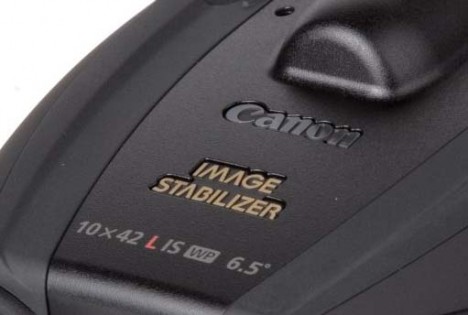 Of all its functional features, the Image Stabilizer receives the loudest applause. This feature compensates for binoculars movement that would result in shaky or blurred viewing. The image is adjusted optically by a Canon design called the Vari-Angle Prism. Those who wear eyeglasses will definitely find the Long Eye Relief feature a much needed function as it permits them to see a full size image (without losing the sides of the image) when their eyes are not able to held up close to the front lens.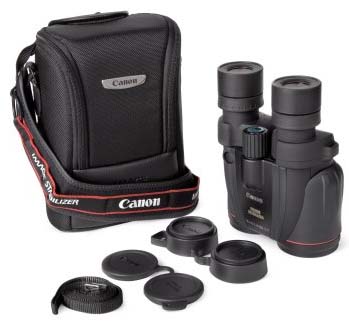 The Canon 10x42L IS WP waterproof binocular weighs only 1030g (2.3 lbs) and is powered by two AA size batteries fitted into its compact 137 x 175.8 x 85.4mm metallic coated body which prevent condensation and fogging. This binocular is currently retailing through Amazon for $1,045.95. You may follow this link here for a brief product tour.
What do the numbers in a binocular model mean?
The first number in the description of binoculars refers to Magnification i.e. how many times the binoculars can magnify an image from life-size. The second number is the Objective Lens diameter (in millimeter) and refers to the size of the main or front lens element.