Instant Messaging is the most favorite online communication tool used widely for peer to peer communication. Unlike voice and video communication, it works well and quite stable since the bandwidth consumption is pretty light weight. In view of the advantage and popularity, VTech, the leading supplier of cordless phone has just announced the availability of its first All-In-One – Cordless Phone with IM (Instant Messaging) and QWERTY keyboard capabilities for consumer market.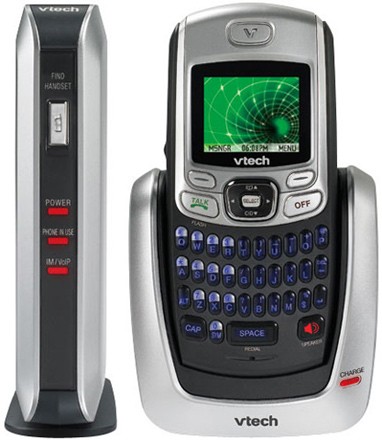 Known as IS6110, it is a DECT 6.0 compliance base unit with additional instant messaging capability built onto its mobile handset. In order to have a better way on inputing text messaging, the unit is equipped with QWERT hard keypad for fast typing. Users can enjoy the fun of having online chatting through MSN Messenger, Windows Live Messenger, AOL Messenger by connecting the base unit to PC via USB port. All these communication windows can be viewed through the high resolution big screen embedded on the handset. Better still, there is a "click-to-talk" feature that enables quick voice chats besides the data communication.
With the new technology convergence by integrating Instant Messaging into DECT cordless phone, user can have more convenience and fun with various ways of communication specially designed for those that can't live without Instant Messaging. Priced at only $99.95, I am sure it is a good deal to get one for your digital home.