Compro Technology, the leading Taiwanese company in developing and manufacturing PC based TV tuners and data broadcast receiver products, has introduced its VideoMate Network Media Centre T1000W. The T1000W is an all-in-one home entertainment device that acts like a media server to store your movies, music, photos, a digital media player, a DVB-T tuner and a digital video recorder.

The VideoMate Network Media Centre T1000W contains an innovative operating system and a powerful processor as claimed by Compro Technology. The system is able to produce brilliant and vivid 1080P Full HD movies output, decoding and recording of MPEG-2 or H.264 digital TV streams. If you prefer an excellent movie output to your LCD or plasma TV, HDMI is the preferred digital connection to ensure zero distortion during the transfer.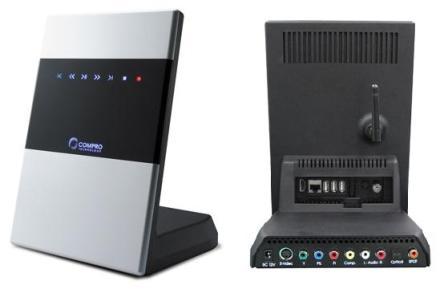 The T1000W features 10/100 LAN capability and clutter-free wireless network. This enables effortless sharing and transferring of files within your home network and cable-free Internet connection. A high-quality remote control comes together with the VideoMate Network Media Centre equipped with 50-keys for control from the comfort of your couch while you're enjoying your digital entertainment. In terms of storage, the T1000W has the most superior storage solution – Serial ATA interface which offers light-speed data transfer and fool-proof connectors.
Its L-shape outfit design comes with a silver sleek bodyline that gives an innovative and unique impression. The innovative convection air flow system keeps the device cool without any fan and enables it to operate in silent mode. The VideoMate Network Media Centre T1000W is available now in UK at around £200 through Scan Computers, CCL Online, Micro Direct, Aria, eBuyer, Xenex, CPC, Maplin and Overclockers.